Firefighters in Ohio came to the rescue of a woman whose pet snake had wrapped around her neck and was biting her nose. The woman made a call to 911 after the boa constrictor wouldn't let go.
The incident took place at around 2pm local time on Thursday (27 July) at the woman's house in Lorain County, west of Cleveland.
"Oh, please! I have a boa constrictor stuck to my face!" she told a 911 dispatcher. "He's biting my nose."
"Ma'am, you have a what?" the operator replied. "You're outside with a boa constrictor stuck to your face?"
The 45-year-old woman, whose identity has not been revealed, apparently rescued two boa constrictors a day earlier. She told the dispatcher that she owns nine other snakes as well – all ball pythons.
"I've never heard of this before," the dispatcher is heard saying in a recording as reported by the local Chronicle-Telegram. He urged her not to move from her position.
One of the boa constrictors was in a cage, while the other – about 5.5ft (1.6m) long - got stuck to her, the woman told the dispatcher.
Firefighters and police who were swiftly sent to her house found her lying in her driveway with the snake around her neck.
The rescue team reportedly had to cut the head off her pet boa constrictor, killing the snake, with a pocket knife.
"It was wrapped around her neck and biting her nose and wouldn't let go," fire chief Tim Card said. "They had to cut its head off with a knife to get it to let go of her face."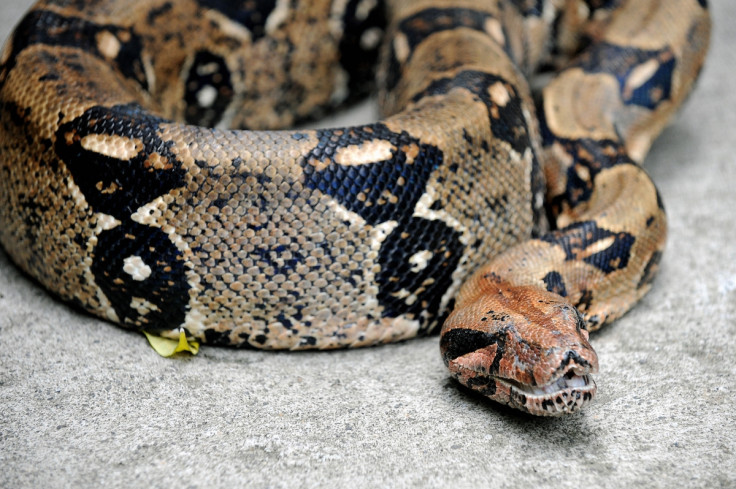 The dead snake was then disposed of in a bin near Sheffield Lake City Hall, Card said.
According to Chronicle-Telegram, the woman was alone at the house and an empty glass cage was found on the pavement. There was also a small pool of blood in the driveway, the paper added. It said the neighbours were not aware of the incident.
Boa constrictors are known to kill their prey by gripping it so tightly that it cuts off the blood and oxygen supply to the victim's vital organs, the BBC noted.