Every year, the round of Premier League fixtures which falls closest to 15 April is preceded by a minute's silence at every ground, for the victims of the Hillsborough disaster. Each of the main newspapers publishes an interview with someone who survived, along with an op-ed about the quest for justice. The internet is inundated with blogs and forum posts from fans of all clubs, showing solidarity with Liverpool and decrying the gross negligence of South Yorkshire police.
This is all entirely justified. Hillsborough was a horrific and wholly avoidable tragedy, precipitated by the popular belief that football fans were animals who should be herded into pens like pigs or sheep. The fact that the victims' families had to wait 23 years for justice was abhorrent, proof that the British establishment viewed Liverpudlians in a cruelly pejorative fashion, best summed up in Boris Johnson's 2004 article which claimed Liverpool was a self-pity city, hooked on grief and welfare.
The Hillsborough Independent Panel report of September 2012 not only confirmed the scale of the injustice perpetrated by the British authorities; it propelled Hillsborough back into the present, and burned it into the consciousness of a whole new generation of supporters. This tragedy will not be allowed to fade into the tattered annals of history; it will remain fresh and relevant, and rightly so.
What about the 39?
But what about Heysel, the other major tragedy involving Liverpool fans in the 1980s? Why don't we remember the Juventus fans who never came home? While one tragedy receives a national outpouring of sympathy every year, the other seems to have been swept under the rug.
Memorial tributes have become such an ubiquitous part of English football that you wonder sometimes why black armbands aren't sown into the players' shirts. Yet there was no minute's silence for Heysel during the final round of Premier League games last weekend, or the play-off finals. There won't be a minute's silence before the FA Cup Final either.
Juventus are holding a mass in Turin, attended by Ian Rush, the revered former striker who played for both clubs. Why aren't Liverpool's huge Catholic community holding their own mass? Why do the club's fans sing about the 96, but not about the 39?
The sense of omertà goes further. Why aren't supporters of other clubs queuing up to lay electronic tributes online? Venture onto Twitter right now and you'll find only a smattering of messages from English fans, many of them devoted to petty tribal point-scoring rather than the tragedy itself.
Of the hundreds of Liverpool fans who joined the stampede, only a handful were punished. A total of 14 fans were found guilty of manslaughter, and given three-year suspended sentences. It's easy to see why Juventus fans would believe this is lenient, just as the Hillsborough families condemn the authorities' failure to punish the police officers who caused the carnage on Leppings Lane. Yet you're unlikely to hear many people demanding justice today.
Time to face the reckoning
There are two very obvious reasons for this widespread reluctance to talk about Heysel. The first: it wasn't English supporters who died. The second: it was English supporters who were responsible.
Whereas the Hillsborough disaster is a source of righteous grievance, Heysel provokes only shame. Although some have suggested National Front thugs may have been responsible for the stampede which killed 39 people at Heysel, the reality is that Liverpool fans, ordinary English footy lovers, were responsible.
And they were only doing what all other English supporters were doing at that time – rampaging across foreign fields and intimidating perceived enemies whenever they got the chance. Just as any set of English fans could have been the victims at Hillsborough, any set of English fans could have been the perpetrators at Heysel.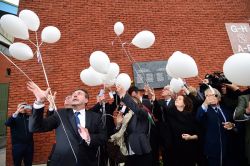 Yet surely, after 30 years, it's time for English football to face up to this shame. For Heysel to return to the popular consciousness, and receive its own nationwide day of remembrance, observed by the entire English football family.
It is a dark chapter in our sporting past, perhaps the darkest of all, yet we must face up to the crimes committed by our country's football supporters at Heysel, and throughout the wider period of hooliganism.
At least our country's football administrators are belatedly waking up to the importance of this tragedy. A private ceremony has taken place at Anfield, and the FA, to its credit, proposed a tribute when England played in Turin in March (the suggestion was turned down by their Italian counterparts).
This needs to go further. English football now boasts the best league in the world, a stunning spectacle played out in shiny new stadiums. But we have come from a very dark place, and it shouldn't be asking too much for us to go back there once a year.