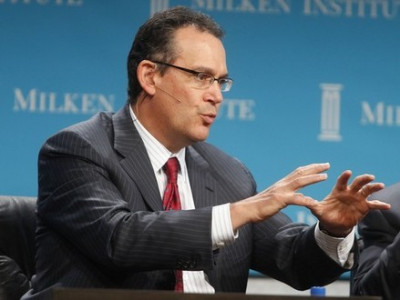 David Simon, CEO of Simon Property, has been named as the highest earning CEO of 2011 in the US according to an Associated Press analysis of Standard & Poor's 500 companies.
Simon, whose company operates shopping centres around the US, earned more than £87.6m in 2011, according to the AP compensation formula.
Leslie Moonves, CEO of CBS came in second with a reported earnings of £43.7m while David M. Zaslav, Discovery Communications - parent of Animal Planet, TLC and other channels - came in third with earnings of £33.4m.
Earnings are based on a formula which adds up salary, perks, bonuses, preferential interest rates on pay set aside for later, and company estimates for the value of stock options and stock awards on the day they were granted last year.
According to data from Equilar, an executive pay research firm, a head of a typical public company made £6.1m in 2011, up from more than six percent in the previous year. In comparison, typical American would have to work for 244 years to earn what a CEO does in one.
To determine 2011 pay packages, the AP used Equilar data to look at the 322 companies in the S&P 500 that had filed statements with federal regulators through April 30. To make comparisons fair, the sample includes only CEOs in place for at least two years.
Of the five highest-paid CEOs, three were in the top five the year before. All three are in the TV business: Moonves of CBS, Zaslav of Discovery Communications, and Philippe Dauman of Viacom, which owns MTV and other channels.
Profit at companies in the Standard & Poor's 500 stock index rose 16 percent last year, remarkable in an economy that grew more slowly than expected.
Click through to see who earned the most in 2011 :