Hillary Clinton gave a public speech criticising, at length, the administration of President Donald Trump, following through with her promise to "come out of the woods".
Speaking at a conference of businesswomen in California, Clinton criticised the Republican leaders on a number of issues, from healthcare reform to the shortages of women in the administrative positions.
Addressing the controversial photo of Trump signing an executive order defunding overseas reproductive healthcare surrounded by men, Clinton pointed to the representation of women in his administration as "the lowest in a generation" – calling for increased female representation at decision-making positions.
Trump has appointed four women to cabinet positions, the same number as in former President George W Bush's first cabinet in 2000.
First daughter Ivanka Trump also has a role in the administration, working on childcare and other issues involving working women and men, from an office in the West Wing. Clinton herself was the first First Lady to have an office in that part of the White House, an "unprecedented" move which raised eyebrows in 1993.
The former presidential candidate never explicitly named her former rival in her hour-long speech, nor prominent members of his administrations such as press secretary Sean Spicer. Yet she still took stabs at the White House spokesperson and his comment on 28 March against longtime White House correspondent and a black female journalist April Ryan, whom he berated for shaking her head.
"Too many women, especially women of colour, have had a lifetime of practice taking this kind of indignity in stride," Clinton said, quoted in the Associated Press.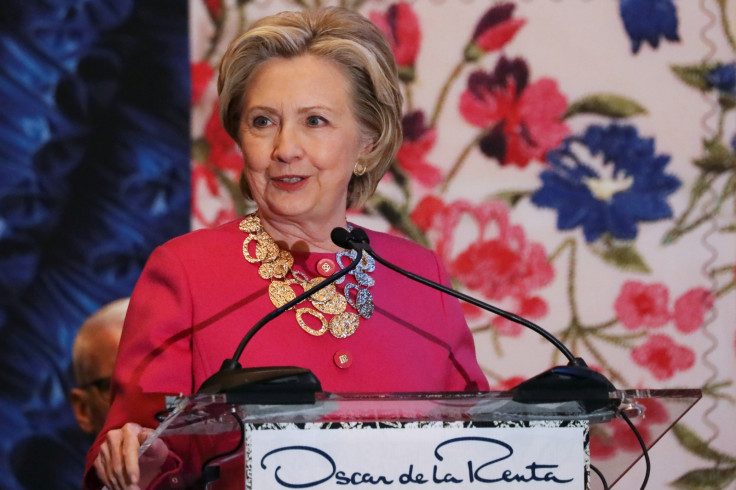 Clinton also celebrated the failure of last week's Republican attempt to repeal and replace the Affordable Care Act, also known as Obamacare, as "a victory for all Americans." Regarding her own electoral defeat, Clinton joked to the women attending the conference there was no place she'd rather be, "other than the White House."
She urged people to resist Trump's "bad policies" which "take the country in the wrong direction". Referring to a widely shared photo of her talking a walk in the woods in the days following Trump's victory, she said: "It's the kinds of things you think about when you take long walks in the woods. Resist, insist, persist, enlist."