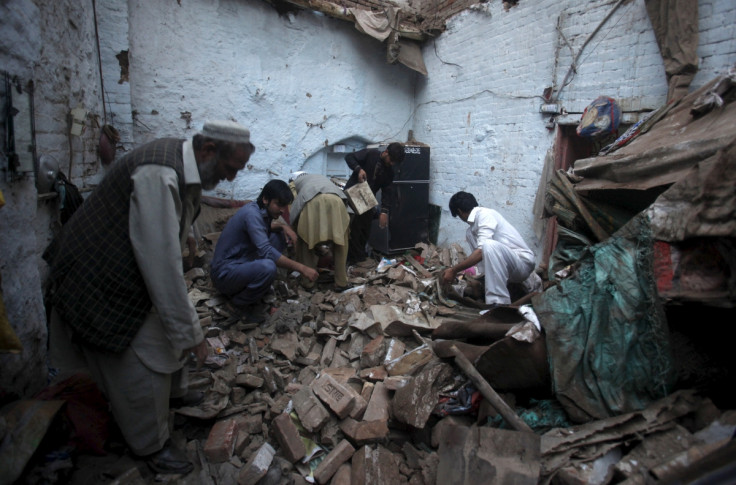 India offered help to its regional rival Pakistan after a strong earthquake killed more than 200 people. Indian Prime Minister Narendra Modi said he contacted his counterpart, Nawaz Sharif, to express his condolences and pledge assistance.
Islamabad has ordered the military to affected areas. "Our top priority is to help those affected because of the earthquake," Pakistan's Information Minister Pervez Rashid said.
The 7.5-magnitude tremor that hit Pakistan and its neighbour Afghanistan on 26 October was felt from Kabul to Delhi. Buildings shook and were evacuated in both capitals as well as in in Islamabad.
"I was praying when the massive earthquake rattled my home. I came out in a panic," Munir Anwar, a resident of Liaquat Pur in Pakistan's eastern Punjab province, told AP.
"First I thought somebody had banged the door. But within seconds, the earth began shaking below my feet, and that's when I ran out of the building," added Naseer Ahmed, a government official.
The US Geological Survey said the epicentre was in a mountainous and sparsely populated Afghan region bordering with Pakistan, Tajikistan and China.
Pakistani authorities said at least 189 people were killed and more than 1,000 injured, while in Afghanistan a provisional death toll stood at 54. The figure was expected to rise as rescuers reach the remote areas struck by the quake. Phone coverage in parts of Afghanistan has remained down in the hours after the quake, international aid agencies reported.
Among the victims were a dozen Afghan schoolgirls who were killed in a stampede as they tried to flee their school's building. The students were on the fourth floor of their school in the Takhar province, west of the epicentre, which was 213km deep and 73km south of the city of Fayzabad. Sonatullah Taimor, the spokesman for the Takhar provincial governor, said another 42 girls have been taken to hospital in the provincial capital of Taloqan.