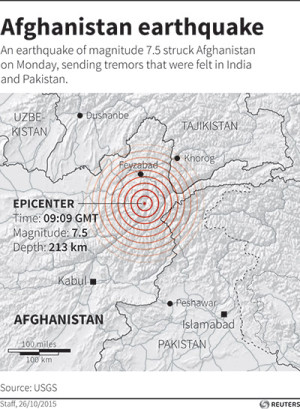 The death toll is expected to rise after a powerful earthquake struck a remote area of northeastern Afghanistan. The quake was 213km (132 miles) deep and centred 254km north east of Kabul, in the Hindu Kush mountain range. The US Geological Survey initially measured the quake's intensity at 7.7 then revised it down to 7.5. Shock waves were felt in northern India and parts of Pakistan.
In Pakistan, 102 deaths were reported, most in northern and northwestern regions bordering Afghanistan, officials told Reuters. Afghan officials said 33 people were killed and more than 200 wounded. The sparsely populated Badakhshan province is often struck by earthquakes but casualty figures are usually low. The death toll could climb in coming days because communications went down in much of the Hindu Kush.
Power was cut across much of the Afghan capital, where tremors were felt for around 45 seconds. Houses shook, walls cracked and cars rolled in the street. Officials in the capital could not be immediately reached as telephones appeared to be cut across the country.
In Takhar province, west of Badakhshan, at least 12 students at a girls' school were killed in a stampede as they fled shaking buildings, said Sonatullah Taimor, the spokesman for the provincial governor. Another 42 girls were taken to the hospital in the provincial capital of Taluqan, where he said more than 60 homes were destroyed.
In Pakistan, Zahid Rafiq, an official with the meteorological department, said the quake was felt across the country. In the capital, Islamabad, buildings shook and panicked people poured into the streets, many reciting verses from the Quran. The quake was also felt in the Indian capital New Delhi, though no damage was immediately reported. In Srinagar, Kashmir, the tremors lasted at least 40 seconds, with buildings swaying and electrical wires swinging wildly, residents said.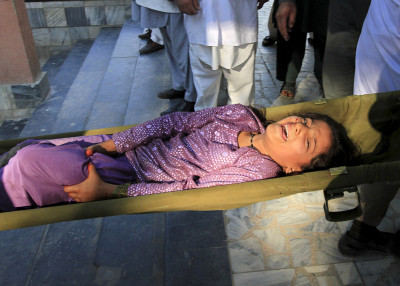 The mountainous region is seismically active, with earthquakes the result of the Indian subcontinent driving into and under the Eurasian landmass. Sudden tectonic shifts can cause enormous and destructive releases of energy.