The few hundred Sikh and Hindu families that remain in Afghanistan are living in fear following increasing conflict between the Afghan government and Islamist insurgents. Acts of violence against the religious minorities have also increased over the past few years.
Almost a dozen people from the minority community fled Helmand province last week to escape backlash from Taliban insurgents who had demanded that they pay 200,000 Afghani (£2000, $2900) a month. The insurgents are said to have a strong presence in the southern part of the country.
Avtar Singh, chairman of the national council of Hindus and Sikhs, said there are only around 200 families left in Afghanistan, down from close to 220,000 until the early 1990s. With the conflict intensifying with each passing day, Singh said intolerance towards them is rising and conditions are becoming worse than under Taliban rule. He said apart from having to wear yellow patches to be identified as Sikhs in public, the previous Taliban government did not bother them much, but now there are frequent incidents of attacks.
"The good old days have long gone when we were treated as Afghans, not as outsiders," Singh told Reuters, adding: "Our lands have been taken by powerful figures in the government, especially by the warlords. We are facing threats, and this small community is getting smaller and smaller every day."
The new constitution of Afghanistan that came into force after US-led coalition forces drove out the Taliban government in 2001 provides religious freedom to the people in the country, but minorities are still facing threats of conversion.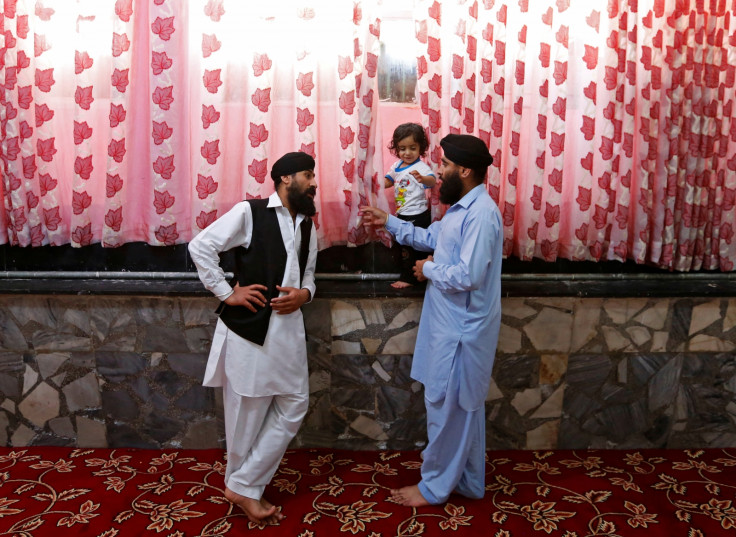 Many have fled back to India, but having been born in Afghanistan, they remain foreigners in India and the same back home in Afghanistan. "When we go to India, we are known as Afghans, but when we are here, we are seen as outsiders even if we are native Afghans," Baljit Singh, a shopkeeper in Kabul, said. "We are lost between both worlds."
The Hindu and Sikh community that formed a major part of merchant trade and money lending businesses in the Muslim-dominated country for many centuries is now mostly engaged in the medicinal herbs business. They once lived in all parts of the country, but the remaining ones are mainly concentrated in the eastern provinces of Nangarhar, Ghazni and the capital Kabul.