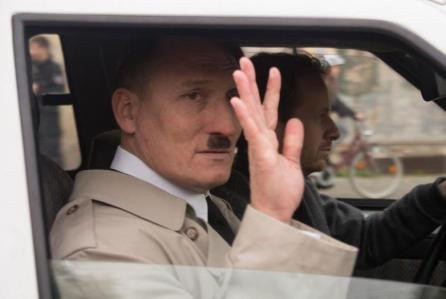 A Hitler lookalike has been strolling around various German countryside locations in an apparent 'Borat-like' stunt to promote a new film.
According to The Hollywood Reporter, the man – complete with an infamous 'Hitler moustache' and trench coat – left locals unnerved after he drove around in a car, waving at people, before stopping to fill up at a petrol station and buy coffee.
'Hitler' was even reported to have made an appearance at a right-wing rally, taunting demonstrators from a balcony by calling them "wimps".
The stunt is in fact a marketing ploy for upcoming movie Look Who's Back – an adaptation of a satirical novel imagining Hitler waking up in Berlin 67 years after the Second World War has ended.
In the book, written by Timur Vermes, Hitler has no memory of anything after 1945 and interprets everything he sees from a Nazi perspective. The people he meets refuse to believe he is actually Hitler, and he becomes a celebrity thanks to his 'method acting' skills.
Published in April 2014, the novel was a smash hit and sold more than 1.4 million copies in Germany alone, going on to be printed in 40 countries.
Deadline reported that the film company behind the stunt, Constantin Film "replicated the Borat model" in its marketing campaign by "thrusting its notorious central character played by unknown German actor Oliver Masucci into unsuspecting real-life situations in Germany" as part of a "pre-shoot tour".
Constantin has maintained an iron curtain of confidentiality around the project in recent months for fear of blowing the cover of Masucci, who was purposely chosen for the lead role due to his lack of public profile.
The movie is a co-production between Mythos Film and Constantin, which will be released in Germany in October 2015.