HIV is retreating in the UK as gay men buy miracle pills online
KEY POINTS
New HIV cases in the UK fall by 18%
New HIV cases among gay and bisexual men fall by 21%
Pre Exposure Prophylaxis (PrEP) medicine is now available on the NHS
The number of people newly diagnosed with HIV in the UK fell by 18% last year in part thanks to gay and bisexual men accessing a new treatment online that the NHS did not provide until a couple of months ago.
New figures from Public Health England (PHE) showed that 5,164 people were given an HIV diagnosis in 2016, down from 6,286 the year before.
HIV diagnoses among gay and bisexual men, who account for the majority of cases, fell by 21% from 3,587 to 2,810 over the same period.
"This is very good news. It is the first time since the beginning of the HIV epidemic in the 1980s that we have observed a decline in new HIV diagnoses among gay and bisexual men," said Dr Valerie Delpech from PHE.
PHE said the unprecedented shift could be attributed to increased testing among at-risk groups, higher levels of condom use as well as internet access to Pre Exposure Prophylaxis (PrEP) – drugs which prevent HIV from entering a person's cells when they have unprotected sex.
When a course of PrEP tablets are taken by men before they have sex with men it shields the virus with about 99% effectiveness.
Despite PrEP not being available on the NHS in England in 2016, PHE still acknowledged the part it played in turning HIV data on its head during the year.
Pink News journalist Benjamin Butterworth told IBTimes UK the NHS had been reluctant to provide PrEP because of cost concerns and this had led people to seek it out online.
He said: "In the last two years there has been a rise in people buying PrEP on the internet, particularly in London." New diagnoses of HIV among gay and bisexual men fell by 29% in the capital.
PHE claimed it was "difficult to assess" how big a factor PrEP had been bringing the HIV numbers down. They pointed to sharp rises in HIV testing among gay men, particularly those at risk, which they say coincided with a fall in new diagnoses.
"Transmission was also reduced because those diagnosed with HIV were offered earlier access to treatment ensuring they are protected from passing on the virus to sexual partners," Delpech said.

The HIV war is not won yet
There was also a welcome fall in the number of HIV related deaths last year – 130 in England, down from 334. Dr Delpech said: "Early diagnosis is also key to making sure that people benefit from HIV treatments so they can live long and healthy lives and are protected from passing on the virus to others."
But PHE stressed that now was not the time for complacency. In particular, it found that among hetrosexual men and women, diagnosis was still occurring at too late a stage of the illness.
Ian Green, Chief Executive of Terrence Higgins Trust, said: "It is vital that heterosexual people and those from black African communities are getting tested for HIV and onto treatment as early as possible – HIV is not just an issue for men who have sex with men."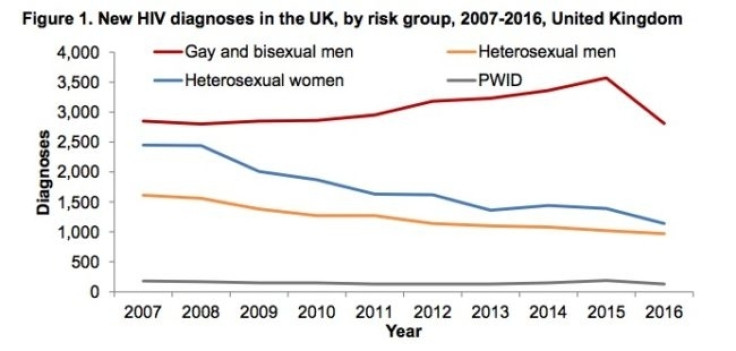 © Copyright IBTimes 2023. All rights reserved.