Home Secretary Faces Uproar Over Entry of Spanish, Neo-Nazi and Far-Right Extremist into Britain
The entry of Isabel Peralta, a Spanish neo-Nazi banned by Germany, into the UK has been contrasted by campaigners to the government's policy on asylum seekers.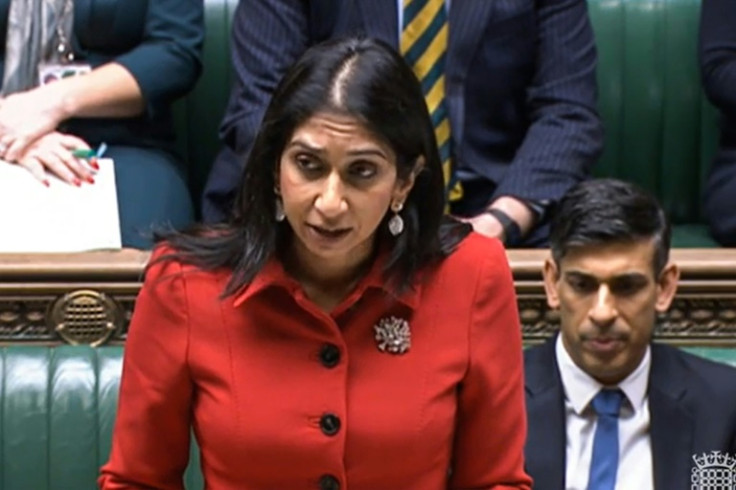 Home Secretary Suella Braverman has come under fire for allowing Spanish neo-Nazi Isabel Peralta into the country.
Peralta travelled to the UK to join several other far-right groups in attending the Annual "Heritage and Destiny" gathering – hosted by a neo-Nazi publication of the same name.
The event took place in Samlesbury, Lancashire, and was attended by 80. Amongst the attendees were figures from neo-Nazi white nationalist groups Patriotic Alternative, British National Party (BNP) and National Front.
It hosted Patriotic Alternative speakers. The event honoured fascist, Sir Oswald Mosley and late "White Power" musician Ian Stuart Donaldson.
Whilst many anti-fascist campaigners commented on the event, demanding answers from the Home Secretary, perhaps the highest profile development has been today's letter from former Labour leader Jeremy Corbyn to Braverman, addressing the issue.
Corbyn expressed "grave concerns over the recent visit of a renowned Spanish far-right extremist (Isabel Peralta)".
He further went on to say: "Peralta's reputation precedes her. In March 2022, she was detained at Frankfurt airport for the contents of her suitcase: a swastika flag, neo-Nazi propaganda leaflets and a copy of 'Mein Kampf'."
Corbyn also reminded the Home Secretary that Peralta is now banned from entering Germany.
Anti-fascist magazine Searchlight demanded that "Suella Braverman has some explaining to do. Last weekend a notorious Spanish neo-Nazi, Isabel Peralta, was allowed in the UK to speak at a Nazi gathering in Preston".
Referring to Germany's ban on Peralta, Searchlight continued: "If she is too extreme for Germany, why was she allowed to enter the UK? Over to you, Suella Braverman."
Corbyn's letter went on to address some of Peralta's extremist views, stating: "I am appalled that someone renowned for such vile antisemitic hate speech was permitted to enter this country to propagate her hateful ideology."
Corbyn also contrasted the apparent ease with which Peralta entered the UK, with the government's policy on asylum seekers.
He said: "Emboldened by a government that speaks of 'invasions' on our southern coasts, far-right groups have staged repeated rallies in Dover and targeted hotels housing refugees."
Blasting the government's stance on asylum seekers, the former Labour leader further stated: "Your government is determined to turn away desperate people fleeing war and persecution but is seemingly unable - or unwilling - to prevent renowned fascists from being welcomed with open arms."
Speaking earlier this month on the contentious issue of asylum seekers crossing the Channel on boats, Migration Policy Specialist, Zoe Gardner, made the point of distinguishing between those who are covered under the Refugee Convention and those who are not - explaining that the latter category now includes many people who are fleeing from extreme hardship including climate-induced disasters, which may not be covered under the convention.
She said that the "non-asylum" migration system needs to be "much more flexible" to cover people who are not just the "wealthy elite of the world who are commanding high salaries who have elite qualifications" but those "who are escaping poverty, who are escaping from climate breakdown".
She went on to emphasise that an overhaul of immigration policy is needed. At one point, she suggested that the current policy, in which France is de facto expected to deal with all asylum seekers, is not sustainable – and that the French understandably would wish to come to an agreement with the British that would see the burden shared more pragmatically and equally. A conversation to which the rest of the European Union would also need to be a party.
The mounting furore over the development comes just as the Canadian parliament is coming under fire for giving a standing ovation to a World War II veteran, who, it later emerged, had served as part of the Nazi SS (the paramilitary Schutzstaffel).
On the occasion of Ukrainian Prime Minister Volodymyr Zelenskyy's visit to the Canadian parliament, Zelenskyy joined his Canadian counterpart, Justin Trudeau, in applauding 98-year-old Yaroslav Hunka, who was hailed as a "Ukrainian Canadian war veteran".
Anthony Rota, speaker of the Canadian parliament, who led the applause, later apologised. However, back in Britain, Braverman has made no response to critics' demands as of yet.
© Copyright IBTimes 2023. All rights reserved.