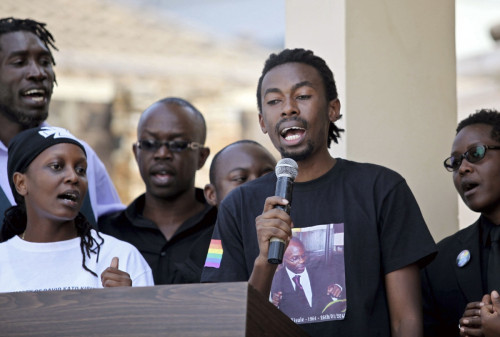 Two gay men who admitted to having sex together have been sentenced to six months imprisonment in Senegal.
The gay couple were found guilty of committing "an improper or unnatural act with a person of the same sex," the Associated Press reported.
Like many other African countries, Senegal has not decriminalised gay sex. The country's President, Macky Sall, has said the law penalising gay sex cannot be changed though he respected the rights of the gay community.
"[W]e have respect for the rights of homosexuals — but for the time being, we are still not ready to change the law," Sall said last year, responding to US President Barack Obama's comments in Dakar calling for equal treatment of lesbian, gay, bisexual, and transgender (LGBT) community.
A majority of African countries criminalise gay sex, while LGBT community often faces persecution from arbitrary laws on gay sexuality.
Two months ago, in a systematic crackdown on the LGBT community by Senegal Police, five lesbian women were arrested at a birthday party in a restaurant.
The recent death of Jean-Claude Roger Mbede, a human rights defender from Cameroon, also underlined the plight of LGBT people in Africa.
Death threats follow conviction
Mbede had been sentenced to three years in jail for sending a text message to another man saying, "I am very much in love with you."
He spent 16 months in a prison before being released in July 2012 for health reasons, but he continued to receive repeated death threats, according to International Gay & Lesbian Human Rights Commission.
Mbede died on 10 January, 2014, in his hometown after he had to stop hospital treatment for lack of money, 76 Crimes reported.
In northern Nigeria, Sudan and Mauritania homosexuality is punishable by death, while Uganda, Tanzania and Sierra Leone penalise homosexuality or homosexual acts by life imprisonment.
President Obama had called for equal treatment of the LGBT community during a press conference in Dakar last year.
"I want the African people just to hear what I believe, and that is that every country, every group of people, every religion have different customs, different traditions," he said.
"And when it comes to people's personal views and their religious faith, etc., I think we have to respect the diversity of views that are there. But when it comes to how the state treats people, how the law treats people, I believe that everybody has to be treated equally. I don't believe in discrimination of any sort."