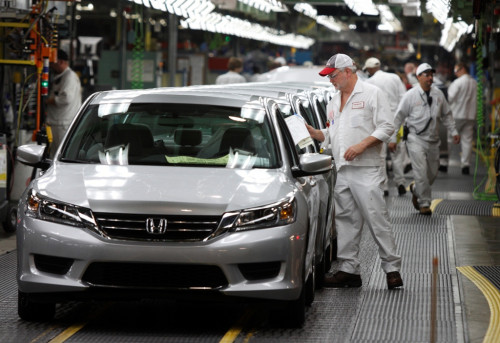 Honda Motor, maker of the best-selling sport utility vehicle in the US, exported more cars out of America than it imported into the country in 2013, a first among the major Japanese automakers.
The company's North American arm said it shipped 108,705 Honda and Acura brand vehicles out of the US in 2013, more than three decades after it began making cars in the US.
It shipped 88,537 vehicles into the US from its home base in Japan last year.
2013's exports were worth $2.658bn (£1.599bn, €1.942). The American manufacturing sites shipped vehicles to 50 countries last year but a bulk of all exports found their way into Mexico. The company no longer exports US-made products to Japan.
Rick Schostek, Honda North America's executive vice president said in a conference call the milestone was "one that's been 30 years in the making."
The trend toward growing its exports from the US and other North American manufacturing sites would continue in the next few years, Schostek was reported to have said by Reuters.
The company, which operates seven auto assembly plants in North America, is due to commence production at an eighth plant, in Celaya in Mexico, in February.
US Production Jumps
Honda built a record high 1.3 million cars in the US in 2013. With factories in Canada and Mexico, the firm manufactured 1.78 million vehicles in North America.
The weaker Japanese yen had little impact on imports from Japan into the US, owing to the long-term strategy of localised production, Honda said.
2013's numbers brought about a significant change from a year earlier, after Honda increased investment and production. The firm injected more than $2.7bn into expanding its North American manufacturing sites over the past three years.
In 2012, Honda's imports into the US hovered at about 136,000, surpassing exports of about 74,000 vehicles.
The gap in the numbers of vehicles shipped to the US was significantly wider five years ago, when 187,000 Honda and Acura vehicles were imported while just about 20,000 were exported.
Honda began making cars in the US in 1982, nine years after it first shipped the Civic sedan into the country.