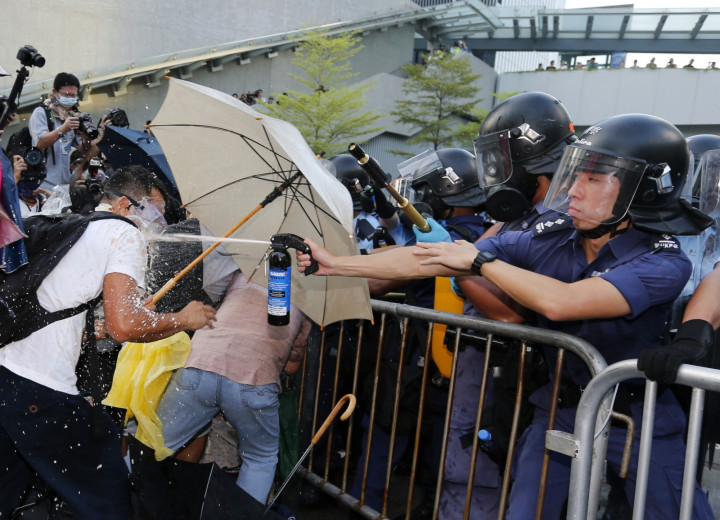 As the Occupy Central movement continues to bring parts of Hong Kong to a standstill, financial sector firms are moving staff to contingency premises on the outskirts of the city.
The financial hub has been descended upon by thousands of pro-democracy protestors, who are demanding the Chinese government in Beijing introduce fully democratic elections for the role of Hong Kong's Chief Executive, due to take place in 2017.
Earlier in the week, it was reported that 44 branches, offices or ATMs from 23 different banks had been temporarily shut down in the face of protests. Now, Reuters reports that banks including JP Morgan, Bank of America, CITIC Securities, HSBC, Société Générale and Barclays are exploring the option of moving staff to back-office sites outside Hong Kong.
The wire quotes Alan Mackay, the COO of Compass Offices in Hong Kong, as saying that firms have been in touch looking for back-up office space, in order to ensure disruption to business and trading is kept to a minimum.
Asian stocks continued to slide on 1 October with investor confidence being hit by the protests. Mumbai's BSE Sensex was trading 0.12%, or 33.22 points, lower to 26,597.29. The Japanese Nikkei finished 0.56%, or 91.27 points, lower at 16082.25. South Korea's Kospi closed 1.41%, or 28.55 points, lower at 1991.54. Only Australia's S&P/ASX ended higher: 0.78%, or 41.30 points up at 5334.10.
Hong Kong's current CEO CY Leung has refused to stand-down, even as dozens of thousands of protestors packed the city's downtown district for the third night in a row, wielding umbrellas to protect them from storms overhead. The movement has consequently been branded "the Umbrella Revolution".
Leung called on protest leaders to rein in their followers, saying: "Occupy Central founders had said repeatedly that if the movement is getting out of control, they would call for it to stop. I'm now asking them to fulfil the promise they made to society, and stop this campaign immediately."
Meanwhile, mobile messaging app FireChat has been downloaded more than 200,000 times in Hong Kong since Monday 29 September. It allows users to bypass mobile networks, meaning it is easier to bypass the strict censorship rules applied by the Chinese authorities.