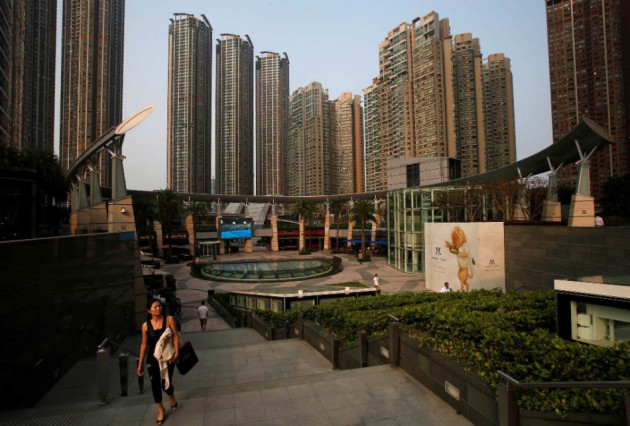 Hong Kong's ambitious plans to improve its infrastructure could be stymied by a shortage of blue-collar workers.
There are plans for an $8bn railroad connecting Hong Kong with the manufacturing hub of Guangzhou, and a 29.6-kilometer bridge linking the city to the gambling mecca of Macau and the city of Zhuhai, dubbed the Chinese Rivera.
However, government data shows that Hong Kong would face a shortfall of 14,000 workers in 2018 if the city's economy expanded by 4% ever year.
The labour deficit could rocket to 163,800 workers if the region logged a higher growth rate in the years leading up to 2018.
By comparison, the mainland will face labour shortages between 2020 and 2025, according to a working paper published by the International Monetary Fund earlier in the year.
Labour Shortages
Construction sites, retailers and restaurateurs are already complaining of labour shortages, reported Bloomberg.
Total job vacancies jumped 10% to 77,858 on an annual basis in June, according to a government report published in September.
Unfilled jobs at construction sites surged 74% to 1,025 in June.
French restaurateur Thierry Perreau, who runs La Creperie, said he is prepared to pay staff and cooks about HK$12,000 ($1,548) a month to work six days a week.
However, job applicants failed to turn up for their interviews, Perreau added.
Younger people are shying away from tough manual labour, said Lam Chun Shun, a director at Wah Fai Engineering, a metal and glass unit.
The shortage is particularly prominent in steel reinforcing, scaffolding, and nail-plating, where workers with the necessary skill-sets are usually over 50 years old.
The pace of work slows down with an aging workforce, Lam said."Salary is not really an issue as it's pretty good now, but still no one wants to enter the industry," he added.
Hong Kong Chief Executive Leung Chun-ying said in January the city might have to look to migrants to fight future labour shortages.
While industry is keen on employing foreign workers, trade unions are against any such move.
"If you import workers, presumably because you can pay them lower wages, where would they live?" asked Kevin Lai, an economist at Daiwa Capital Markets Hong Kong.
"Basically, Hong Kong's economy is already at full capacity. Economic growth needs to slow down and let the pressure ease on the labour and housing markets," Lai added.
Under Hong Kong rules, foreign workers can occupy jobs at the technician level or below under the Supplementary Labor Scheme. Some 2,612 foreigners were given jobs under the scheme as of June.
The city is also home to over 300,000 domestic helpers, mostly from Indonesia and the Philippines, who applied though a different program.