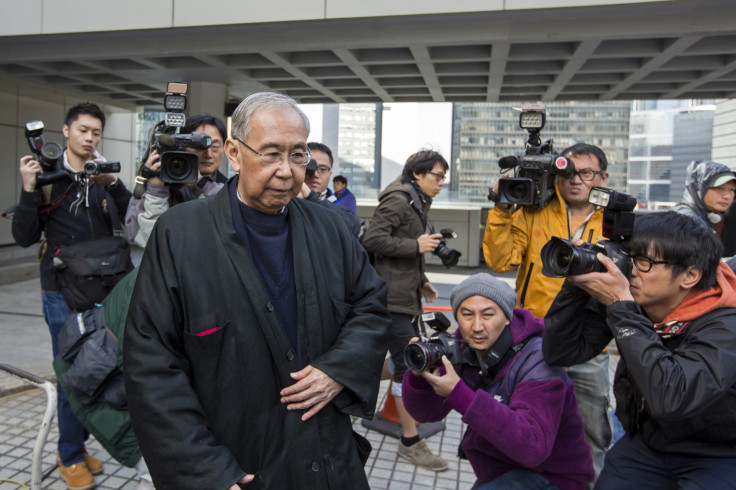 Hong Kong property tycoon Thomas Kwok has been sentenced to five years in jail for corruption, while the city state's former government number two, Rafael Hui, has been given seven-and-a-half years.
Hui was found guilty of three counts of misconduct in public office and two counts of conspiracy to commit misconduct, and Sun Hung Kai Properties co-chairman Thomas Kwok was found guilty of one count of conspiracy to commit misconduct in public office. Thomas' brother Raymond was earlier cleared of all charges.
Thomas Kwok and Hui were also fined HK$500,000 ($64,460, £41,327) and HK$11.18m, respectively.
In addition, Sun Hung Kai executive Thomas Chan and businessman Francis Kwan, who were found guilty of two charges of conspiracy to commit misconduct in public office and conspiracy to offer an advantage to a public servant, were given jail terms of six years and five years, respectively.
The landmark ruling closes a chapter of one of the biggest graft trials in Hong Kong's history.
Justice Andrew Macrae said Hui was "one of the instigators as well as the beneficiaries of these conspiracies".
"To know the former number two in government has received bribes must be a deep disappointment to many people in Hong Kong," he said.
"It is vitally important in these times the Hong Kong government and business community remain and are seen to remain corruption-free, particularly when the mainland is taking obvious steps to eradicate the cancer of corruption in their own jurisdiction."
Speaking about Kwok, Macrae said he "is at heart a good ​ma​n and a sincere one whose work and altruism has touched the lives of many people​."
Kwok was disqualified from becoming director of a company for five years.
The Kwok brothers are running Sun Hung Kai Properties, Hong Kong's second-largest property developer, and they rank third among Hong Kong billionaires with a net worth of $14.4bn, according to Forbes' latest rich list.
The case attracted widespread attention in Hong Kong, where illegal tie-ups between government officials and business magnets have always been a concern.
The former British colony's Independent Commission Against Corruption (ICAC), which arrested the people in 2012, was created by the colonial government, and has been facing criticism over its ineffectiveness to tackle high-profile cases.