What began as fiery protests against police action on illegal food stalls in Hong Kong's Mong Kok district has snowballed into a riot, with police firing warning shots at the crowd. Mong Kok, one of Hong Kong's busiest districts, has been kept under lockdown to prevent spillover during the three-day Chinese New Year holiday.
Skirmishes erupted after angry vendors showed strong resistance when food and hygiene inspectors attempted to remove their food stalls from a major junction. The protesters hurled stones, bricks, bottles and other missiles, forcing the police to respond with batons and pepper spray.
The turbulence-hit district had witnessed severe unrest during earlier demonstrations and has been at the centre of the upheavals. Hong Kong administration has "strongly condemned" the protesters' actions and said several hundred rioters were involved. Even as the clashes were ongoing, hashtag #fishballrevolution gained momentum on social media in a show of support for the street food vendors.
"The situation ran out of control and became a riot. As police officers saw their lives under serious threat, without any other alternatives, two gunshots were fired as a warning," acting district commander Yau Siu-kei told reporters.
At least 48 police officers have been injured, said authorities. Nearly two dozen protesters, including women, have been detained by the police for assaulting security personnel.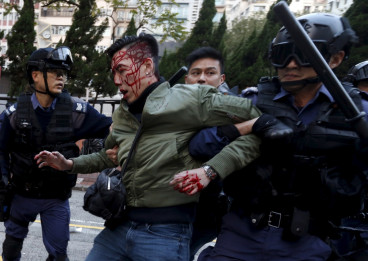 "Radical elements have come with self-made weapons and shields and clashed with police," added Yau. Following the incident, the police issued a formal statement urging the protesters to show restraint. Motorists have also been asked to avoid the area. An investigation has been initiated to check whether the riot was a coordinated operation.
The latest police statement read: "Police reiterate that any acts endangering public order and public safety will not be tolerated. The Hong Kong community regard that the public should express their views in a rational and peaceful manner. Police will take enforcement actions decisively on law-breaking behaviours."
During the Umbrella Movement demonstrations and Occupy protests in 2014, Mong Kok had experienced some of the worst violent incidents. At the peak of the unrest, about 100,000 people were estimated to have turned up on the streets rallying against the China-backed Hong Kong administration.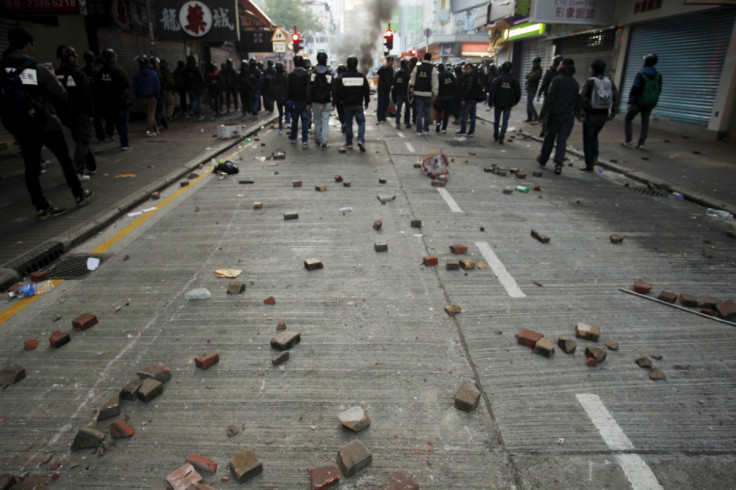 More about Hong Kong