Hong Kong's riot police were called to a narrow street in Mongkok in the Yau Tsim Mong district of Hong Kong on Tuesday (9 February) as a group of angry protesters began demonstrating against authorities attempting to remove illegal street stalls from the area, which were set up for the Lunar New Year. The clashes broke out after police moved in to clear the vendors, or 'hawkers', who has been selling local delicacies, trinkets and household goods from makeshift stalls in conjunction with the New Year celebrations.
The authorities' attempts to remove the vendors from the area resulted in bricks being hurled at police, as other protestors set fire to piles of rubbish and damaged street signs. Within hours, the Nathan Road shopping strip was covered in broken bottles and chunks of bricks, with a nearby taxi parked nearby with shattered windows. As the clashes continued, protestors and police were seen with severe injuries and with nearly 50 riot police at the scene. Some 24 arrests were made.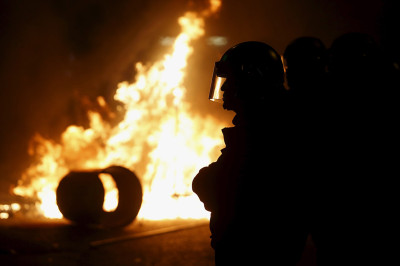 The hawkers, a common sight on Hong Kong's busy streets, had quickly attracted a strong social-media following under the hashtag #FishballRevolution. The clashes of December 2014 came as authorities cleared pro-democracy demonstrators from the streets after more than two months of protests that had posed one of Beijing's greatest political challenges in decades. Television footage showed the recent Mongkok protesters shouting "Establish a Hong Kong country!" as they battled with police.