Fresh scuffles broke out between Hong Kong riot police and pro-democracy activists in a district where police had cleared protesters earlier in the day.
Police used pepper spray and batons to fend off a large crowd of people who had gathered in Mong Kok, and several protesters were seen knocked to the ground or carried away by police.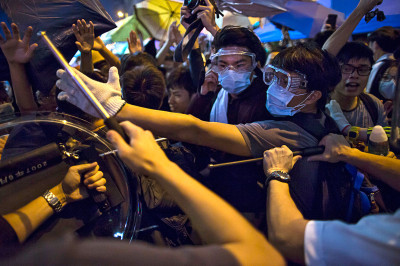 The chaotic scenes unfolded hours after police moved in to clear tents, canopies and barricades at the site, a smaller protest zone across Victoria Harbour from the main occupied area in the heart of the financial district.
Hundreds of Hong Kong police staged their biggest and boldest raid yet on a pro-democracy protest camp before dawn, charging down student-led activists who have held a key intersection in one of the main protest zones for more than three weeks.
The operation came while many protesters were asleep on the road in dozens of tents or beneath giant, blue-striped tarpaulin sheets.
The raid was a gamble for the 28,000-strong police force who have come under criticism for mounting aggressive clearance operations using tear gas, baton charges, and the violent beating of a handcuffed protester by seven policemen on Wednesday 15 October.
Storming into the intersection with helmets, plastic riot shields and batons at the ready, the deployment of 800 officers caught the protesters by surprise.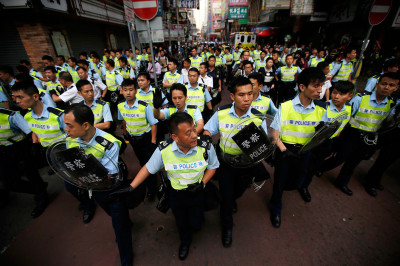 Some protesters moved to a nearby park, but later came back. Police said they would allow protesters to continue to occupy a section of the busy Nathan Road.
"The occupation here hasn't finished yet," said Simon Siu, a protest logistics coordinator. "People will come back."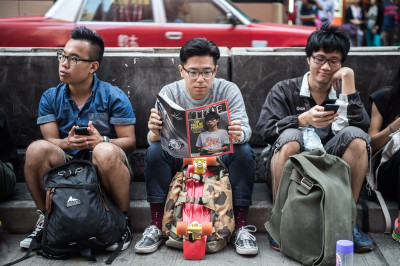 At the protest's peak, 100,000 were on the streets, presenting Beijing with one of its biggest political challenges since it crushed pro-democracy demonstrations in and around Tiananmen Square in the Chinese capital in 1989. Those numbers have dwindled significantly but police action could reignite retaliation.