Hong Kong Protests: Video Shows Police Beating of Pro-Democracy Activist Ken Tsang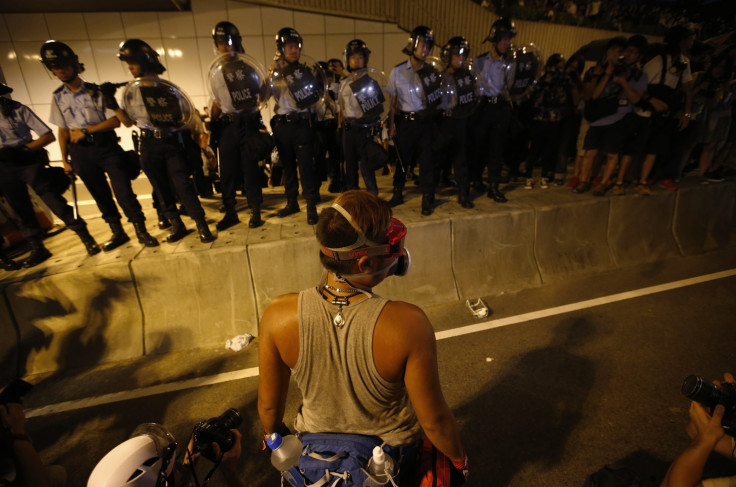 A video showing plain clothed police officers beating up a handcuffed pro-democracy protester in Hong Kong has emerged, sparking public anger.
In footage broadcasted by television network TVB, half a dozen officers are seen shovelling Ken Tsang, a member of the liberal democratic Civic Party, around a dark corner and kicking him on the ground.
A policeman stands over him and repeatedly punches the activist. TVB said the attack went on for four minutes.
"Hong Kong police have gone insane today, carrying out their own punishment in private," said pro-democracy lawmaker Lee Cheuk-yan, form the Labour Party said. "Hong Kong's values and its rule of law really have been completely destroyed by police chiefs."
Tsang was later taken to the Ruttonjee Hospital in Wan Chai, where he was photographed sporting bruise marks on his face, neck and back.
Hong Kong resident and reporter Tom Grundy tweeted:
Police conduct was condemned by rights group Amnesty International.
"This appears to be a vicious attack against a detained man who posed no threat to the police. Any investigation into this incident must be carried out promptly and all individuals involved in unlawful acts must be prosecuted," said Mabel Au, director of Amnesty International Hong Kong.
"It is stomach-churning to think there are Hong Kong police officers that feel they are above the law."
A lawyer representing the pro-democracy activist said he was initially arrested for assaulting a police officer. Local Now TV showed footage of him splashing water at policemen.
Authorities said they were investigating the incident and had already taken action against the officers involved.
"There is concern over a video clip taken by the media showing police officers who used inappropriate force against an arrested person," Secretary for Security Lai Tung-kwok said, adding the policemen have been temporarily reassigned.
AFP reporter Katy Lee tweeted:
The incident came at night, as security forces moved to clear an underpass occupied by protesters, sparking clashes.
Protests started last month after Beijing decided it was to screen candidates for the first election in the territory in 2017.
© Copyright IBTimes 2023. All rights reserved.