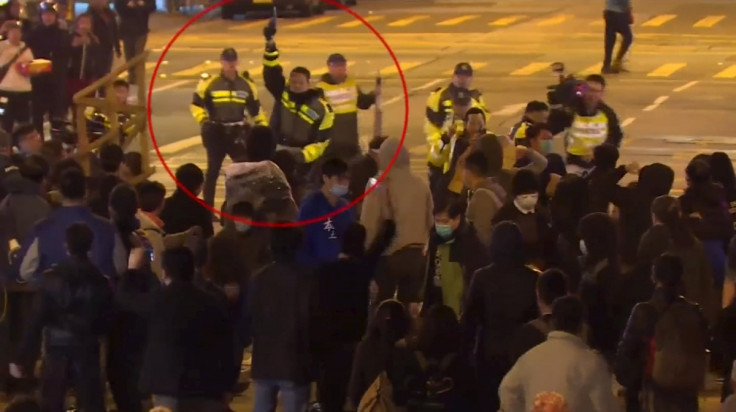 Beijing's top official in Hong Kong has blamed "radical separatists" with "terror tendencies" for causing the riots in the busy commercial area of Mong Kok district. Zhang Xiaoming, the head of Beijing's Liaison Office in Hong Kong, said authorities will not allow such elements to destroy the law in Hong Kong.
Expressing shock and sadness over the riots that took place on 7 February, Zhang told reporters at the spring festival in Hong Kong: "We strongly condemn those radical separatists whose behaviour got more and more violent, and even showed terror tendencies.
"We strongly condemn those remarks and sophistries that agitate for violence and confuse right and wrong, and even attempt to shift the blame onto other people," Zhang was quoted as saying by The Shanghai Daily.
The riots took place after officials tried to remove illegal hawkers who had set up their shops in Mong Kok during the Chinese Lunar festival. According to reports, around 300 people were involved in the disturbance and more than 60 people were arrested, while 40 others were charged with rioting. Around 90 police officers and four journalists were also injured during the riots.
Hong Kong leader Leung Chun-ying said a majority of the rioters were "jobless".
"Quite many of them belong to radical political groups. Their political demands cannot reflect the majority of society," Leung said.
"The whole idea, of course, is to condemn the protesters in association with the pro-democracy movement in the public opinion war," pro-democracy activist Joseph Cheng, who has advocated direct leadership elections for Hong Kong, told Agency France Presse. "Condemning the riot has the purpose of justifying the hardline (stance) of Beijing."
Around 200 people led by a civil group called Alliance in Support of Our Police Force gathered at Hong Kong's landmark Clock Tower on 15 February. The march, carried out in solidarity with the police force, was organised to condemn the act of the rioters.
"All Hong Kong residents should do some soul-searching after this incident, because it takes two to tango. As we all can see, the government has to figure out ways to deal with the anger in our young people. After the arrests of rioters, we have to press on and make clear what they want and what motivated them to participate in such a riot," Leticia Lee, the founder of the Alliance, said.