Hong Kong is reported to be widening the crackdown on pro-democracy activists as the police have arrested nine more people on Thursday (27 April) for their alleged role in a protest that took place last year. A day earlier, the semi-autonomous state charged two disqualified pro-independence lawmakers over a separate incident.
The arrests are said to be the latest in a string of politically motivated prosecutions that critics say are aimed at stifling those who oppose the China-controlled government.
The nine activists were arrested on suspected charges of unlawful assembly and disorderly conduct in public place during a rally outside Beijing's representative office in the city on 6 November. The other two activists - Sixtus "Baggio" Leung and Yau Wai-ching - were arrested on 26 April for trying to storm into a meeting of the Legislative Council, again in November.
Both the incidents were related to a saga over a dramatic anti-China protest after an oath-taking controversy of two politicians. China had barred two Hong Kong pro-democracy politicians - Sixtus and Yau - from taking office in November after they reportedly failed to pledge allegiance to Beijing during their oath-taking ceremony a month earlier.
The series of events and rallies led to Chinese parliament issuing an interpretation of Hong Kong's mini-constitution, or Basic Law, which stated that Sixtus and Yau would not be allowed to retake their oaths if their first attempt were considered invalid.
The incidents sparked widespread protests, with campaigners denouncing China's interference in the city's affairs. The nine arrested activists were among the thousands who protested against China's interpretation of the Basic Law.
Twenty-five-year-old Yau and Sixtus, 30, have to appear in court on Friday, Reuters reported.
Local media reports suggest that these campaigns are part of a new wave of legislators advocating greater separation from the mainland. They were elected to office last year despite a growing tide of anti-China sentiment in the semi-autonomous state.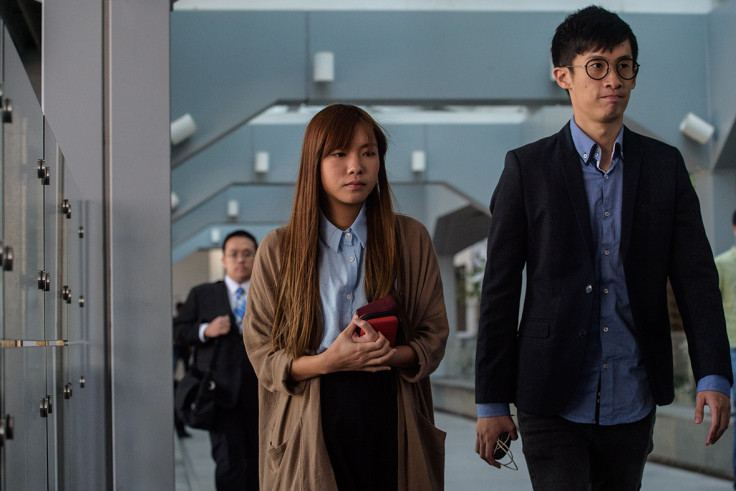 China barring politicians from taking oath is reported to be the most direct intrusion in the city's legal and political system ever since Hong Kong was handed over to the Chinese by Britain in 1997. China agreed to "one country, two systems" principle to ensure some freedom to Hong Kong that included a separate legal system.
One of the nine activists, Derek Lam, said he was charged for allegedly inciting others to commit public nuisance. He was later released on bail. The 23-year-old student accused Hong Kong's outgoing leader, Chief Executive Leung Chun-ying, of scaring off anti-government campaigners before stepping aside when his term ends in June.
"He is clearly trying to eliminate and scare those who want to want to fight for democracy, the legislators and the students, through arrests and legal tactics," Reuters cited Lam as saying from outside the police station.