Syria Isis News: Female 'General' Leading Kurdish Defence of Kobani from Islamic State Onslaught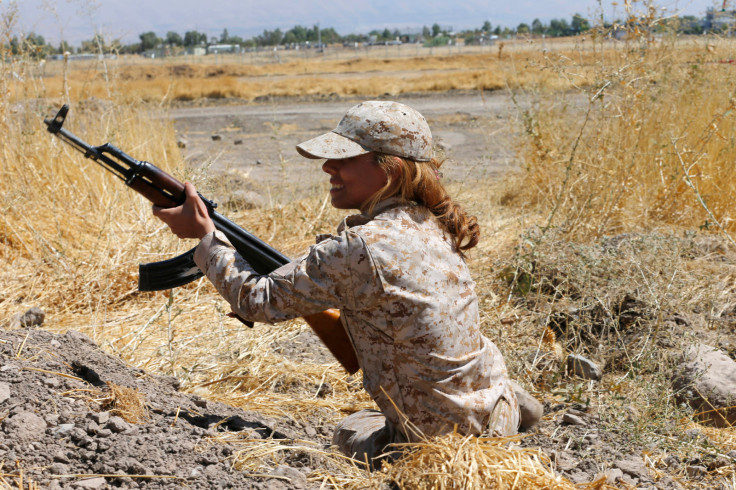 A female commander, known by the nom de guerre of Nalin Afrin, has been co-ordinating the Kurdish resistance against Islamic State (formerly known as Isis) in the besieged city of Kobani.
Rami Abdel Rahman, the head of the Syrian Observatory for Human Rights, confirmed that Afrin's real identity is Mayssa Abdo.
She is reportedly 40 years old and comes from the city of Afrin, in the Aleppo province of Syria. Her home city has been controlled by the People's Protection Unit (YPG), the armed wing of the Kurdistan Workers Party (PKK), since Syrian National forces withdrew in the summer of 2012.
Mustafa Ebdi, a Kurdish activist from Kobani, told AFP: "Those who know her say she is cultivated, intelligent and phlegmatic." He also said that "she cares for the mental state of the fighters and takes interest in their problems."
The British-based Syrian activist organisation also confirmed that she was commanding YPG forces along with a male colleague known by the pseudonym of Mahmud Barkhodan (the Kurdish word for "resistance.")
It is customary for Kurdish soldiers to fight under a pseudonym, usually derived from their hometown or character trait.
Female soldiers have been at the forefront of the Kurdish resistance against the offensive of Islamic State (IS). Last week, one female soldier carried out a suicide mission while trying to defend a street in Kobani from IS. Dilar Gencxemis, known as Arin Mirkan, blew herself up using a grenade, reportedly killing up to 27 IS fighters.
IS have started to use car bomb attacks to break the Kurdish defensive positions in Kobani. Three IS fighters carried out co-ordinated suicide bomb attacks over the weekend. They were reportedly German, Indonesian and Tunisian nationals.
The Syrian Observatory for Human Rights reported that 159 people were killed in Syria yesterday. Forty-two of the fatalities were IS fighters in Kobani. At least five Kurdish soldiers were killed defending the city.
© Copyright IBTimes 2023. All rights reserved.