Horsemeat Scandal: Farmers Launch 'Buy British' Campaign
Three places raided in the UK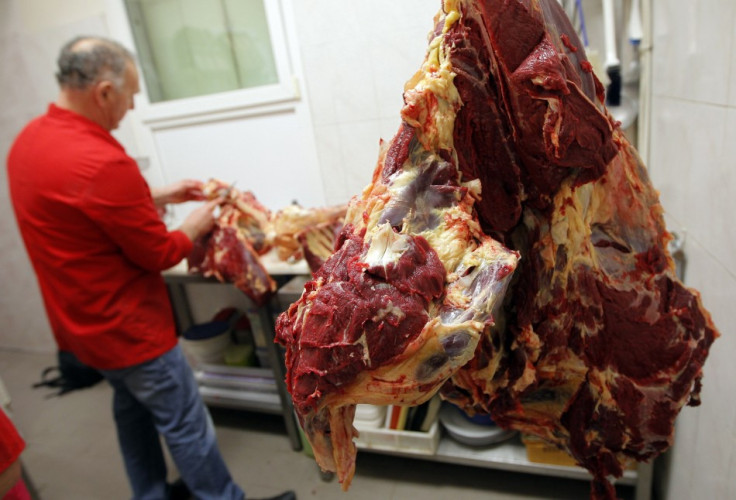 Farmers have launched a "Buy British" campaign by taking out advertisements in 10 national dailies over the ongoing horsemeat scandal which is rocking the food industry in the UK and EU.
The National Farmers Union (NFU) has urged consumers to buy British products in a direct attack over the contamination of horsemeat in beef products.
"British farmers are very proud of what they produce and are, quite rightly, furious about this current situation. They feel let down by what looks like a criminal element in an isolated part of the food chain," said NFU President Peter Kendall.
Hailing the British standards in the food industry, Kendall said the farmers are working to "extremely stringent standards" in producing the products.
"This gives me confidence that fresh, British meat should remain top of the shopping list. And I'm not alone. Anecdotal evidence from Eblex suggests that demand for assured quality beef remains robust and that consumers are increasingly looking for assurance marks when they are buying food," said Kendall.
The campaign has also come at a time when three more food processing units in the UK have been raided by authorities.
Two plants in Tottenham, London and another one in Hull, Yorkshire, have been visited by authorities of the Food Standards Agency (FSA). The investigating officials have removed a computer and taken meat samples to be examined for contamination.
"At no time has Dinos & Sons produced or manufactured anything that is under investigation or is the subject of any possible contamination or mislabelling," said a statement from Dinos & Sons Continental Foods which was one of the units that came under scrutiny.
Only a day back, police officials had arrested three men in Wales and West Yorkshire over allegations of labelling horsemeat as beef.
However, FSA chief executive Catherine Brown said: "The overwhelming majority of beef products in this country do not contain horse. The examples we have had are totally unacceptable but they are the exceptions."
The FSA discovered that 29 of the 2,500 beef products which it tested appear to contain more than one percent of horsemeat.
Meanwhile, the EU has also approved launching of tests on meat products to analyse the presence of horse DNA in them.
In a bid to end the spiralling scandal, the tests will also look into any existence of phenylbutazone, an anti-inflammatory drug for horses and harmful to humans.
© Copyright IBTimes 2023. All rights reserved.