How to clean install iOS 9.1 on iPhone, iPad and iPod Touch [Download links]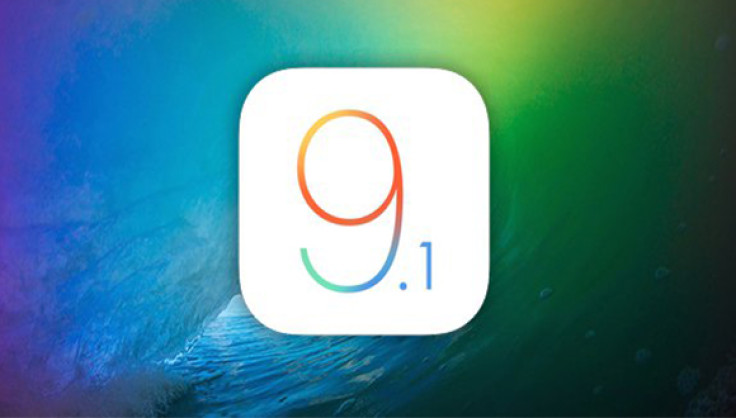 Apple has finally started rolling out the iOS 9.1 final firmware for supported iPhone, iPad and iPod Touch models with a new set of emojis, improved Live Photos and more. The IPSW download links are now live for each of the supported iOS devices and discerning users are just a step away from performing a clean install of Apple's newest mobile operating system (OS).
iOS 9.1 release comes just after a month of extensive bug-testing with a total of five beta builds and two public beta releases in iOS 9.0.1 and 9.0.2. Avid iOS users of text and messaging apps will be thrilled with the addition of 150 new emoji characters, which include new food-based entries such as taco, burrito, and a cheese wedge.
Apart from the inclusion of new emoji characters, Apple has added support for Unicode 7 and 8 in iOS 9.1. Besides, the Live Photos feature gets a new enhancement to allow the OS to sense when the device is raised or lowered that will effectively prevent unwanted video and stills recording on the camera to conserve system resources. The conversation list in the native Messages app can now be enabled or disabled from displaying a profile picture linked to a contact.
However, those who are already jailbroken on iOS 9 or looking to preserve their existing jailbreak apps and tweaks, are advised to hold off updating their device to iOS 9.1, as there are no working jailbreaks for the latest iOS update yet.
Non-jailbreakers can go ahead and install iOS 9.1 as an over-the-air update via Settings > General > Software Update. If you face any installation or post update issues with iOS 9.1, then you can try installing the same manually, using our step-by-step guide posted below.
Before you proceed, check out the complete changelog (see screenshot below) for iOS 9.1, which lists out the various bug-fixes and enhancements ported into this release.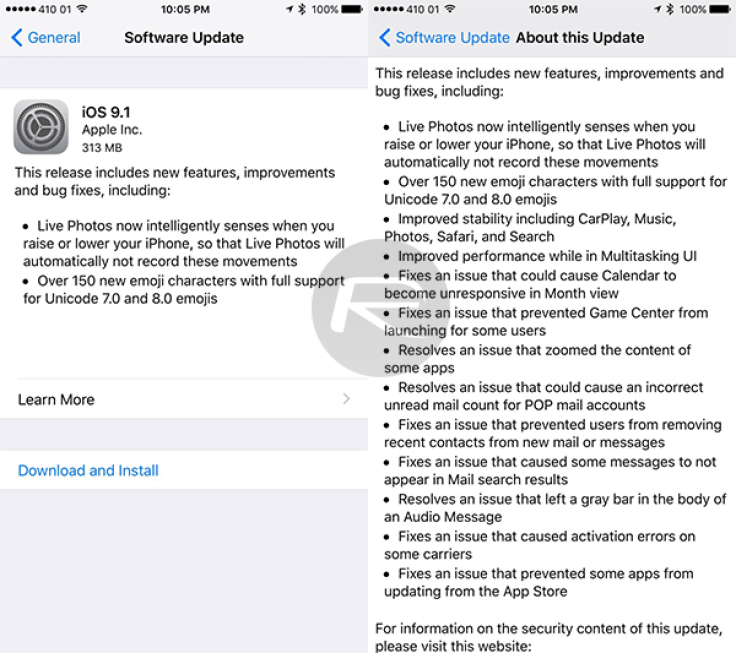 iOS 9.1 IPSW direct download links
iPad Air 2 (6th generation WiFi)
iPad Air 2 (6th generation Cellular)
iPad Air (5th generation Cellular)
iPad Air (5th generation WiFi)
iPad Air (5th generation China)
iPad 3 Wi-Fi + Cellular (CDMA)
iOS 9.1 device compatibility
iOS 9.1 is supported on a bunch of devices running iOS 9, which are listed below:
iPhone: iPhone 6s, iPhone 6s Plus, iPhone 6 Plus, iPhone 6, iPhone 5s, iPhone 5c, iPhone 5, iPhone 4s
iPad: iPad Pro, iPad Air 2, iPad Air 1, iPad mini 4, iPad mini 3, iPad mini 2, iPad mini 1, iPad 4, iPad 3, iPad 2
iPod Touch: iPod touch 6 and iPod touch 5
Steps to clean install iOS 9.1 final on iPhone, iPad and iPod Touch
Download the latest version of iTunes for Mac or Windows depending on your configuration.
Download the iOS 9.1 download link appropriate for your iDevice from the links provided.
Disable Find My iPhone on your device by going to Settings > iCloud > Find My iPhone and toggle it Off.
Plug-in your iOS device to computer and launch iTunes.

Select your device from the Summary tab under Settings from the left sidebar panel, once the device is detected in iTunes.
Press and hold Alt key (on Mac) or hold the Shift key (on Windows) and then hit the Restore button in iTunes.
iTunes will prompt you to select the .ipsw file you downloaded earlier in step 2.
Just wait until iTunes completes installing the final version of iOS 9.1 on your iPhone, iPad or iPod Touch. Once the installation is done, your device will automatically boot into the welcome or Hello screen of iOS 9.1.
[Source: Redmond Pie]
© Copyright IBTimes 2023. All rights reserved.