Fans of the hit show How I Met Your Mother who are desperate to find out what happened to the mooted spin-off How I Met Your Dad can at last get an inkling of what the creators had planned. The script from the pilot for the sitcom, which was shelved in 2014, has been leaked online.
So if you're feeling a tad impatient about what happened next and fancy a long trudge through a pilot script for a character originally referred to as "a female Peter Pan who never grew up and has no idea where she's going in life", it's all out there in cyberspace.
The pilot, which starred mumblecore darling Greta Gerwig, was narrated by romcom legend Meg Ryan and was in a similar vein to How I Met Your Mother's pilot, though with enough differences to make fans wonder what might have been.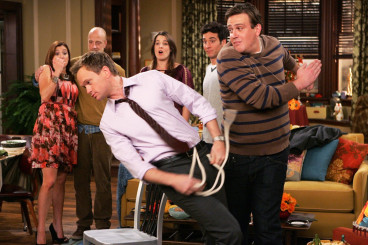 You can read the entire script here, courtesy of the website TV Writing, but here's a little breakdown:
The pilot, set in 2014, centres around Sally Javits (Gerwig, with Meg Ryan as narrator/future Sally), whose gregarious hard-partying ways result in the break-up of her short-lived marriage to highly strung Gavin (Anders Holm). Following the break-up, Sally's bother Danny (Andrew Santino) and his husband Todd (Drew Tarver) find themselves mollycoddling Sally as they prepare for the arrival of their soon-to-be adopted daughter.
Then, BFF Juliet (Tiya Sircar) convinces Sally to swiftly get over Gavin via the "nail and bail" approach (an actual line from the script, just to make it clear), setting up the newly single protagonist with an IT guy named Frank (Nick D'Agosto).
The main similarities with HIMYM are the perpetual flashbacks and Sally's date with Frank which mirrors the meeting of HIMYM's Ted and Robin.
After nine seasons of its, umm, mother, How I Met Your Dad never got beyond its pilot stage after creators Craig Thomas and Carter Bays refused to re-shoot it as requested without guarantees about its future. Nina Tassler, CBS entertainment president, said the show had "elements that did not work out" and, later, that she would "love the opportunity to take another shot".
But that would have meant a new cast, as Gerwig, Ryan and co had all been released, and Thomas and Bays decided to move on.