Microsoft has released the highly anticipated Technical Preview version for Windows 10. The company has kicked off the 'Windows Insider Program' through which PC experts and IT professionals can get access to the pre-release software for Windows 10 Technical Preview for desktops and laptops.
With the Windows Insider Program, Windows fans will be able to download the Technical Preview and can enjoy the goodies Microsoft has stuffed in the new Windows version such as new Start menu, multiple desktops, snap enhancements and many more.
Members of Windows Insiders community will automatically receive the new builds when they are released. Microsoft notes that some of the features might not work correctly as they are still going through experiments.
For advanced users, the download links for Windows 9 Technical Preview with build number 9841are available, thanks to Neowin, who has shared the links.
Download links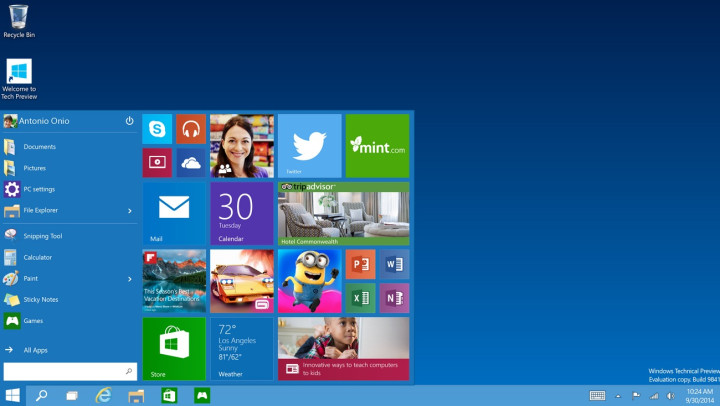 As Microsoft notes, those who wish to download the Technical Preview for daily use should refrain from doing so. If you are using your PC or laptop which contains important data, you are advised not to install this update. You can perform this given you have a spare machine or should wait until Microsoft releases the final version of the update, which is due next year.
Users who wish to taste the early build of Windows 9 Technical Preview may move on to a guide here, courtesy of Redmond Pie.
Windows 10 Technical Preview system requirements
The device should be powered by 1GHz processor.
There should be 1GB RAM (x86) or, 2GB RAM on a 64-bit machine.
The required storage space should be 16GB.
You will need a DirectX 9 or, above graphics device, stable internet connection and a Microsoft account.
The PC should be running Windows 8.1 to be capable of installing Windows 10 Technical Preview.
Ensure that you have backup up all the important data of the machine.
How to install Windows 10 Technical Preview
Step-1: Navigate to insider.windows.com and click on Join now to sign up for the programme
Step-2: After signing up, you will have to click on the link to the ISO specific for set up
Step-3: When the download for ISO specific file is completed, move the file to a USB flash drive. Alternatively, you can burn the ISO to a DVD using any burning programme, which might take a little more time than usual. You will need Microsoft Windows USB/DVD Download Tool to burn the ISO file to a USB drive
Step-4: While the USB drive is connected or the DVD is in the drive and loaded, boot up your computer from this installation media and follow the on-screen instructions to install it
That's it. Your PC should now be running Windows 10 Technical Preview with the new features Microsoft has unleashed.