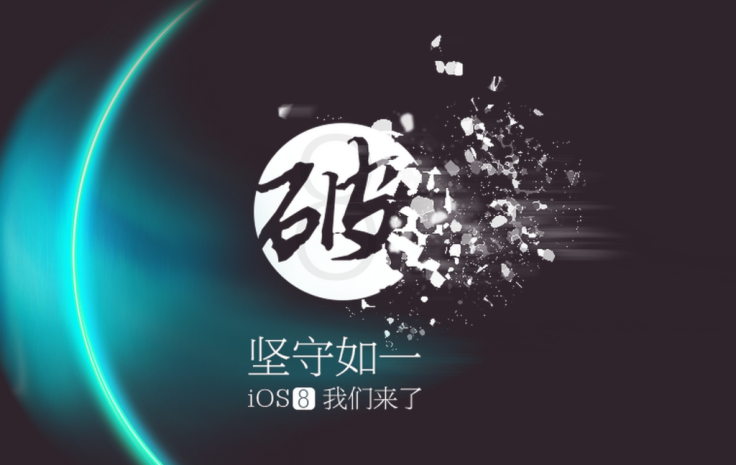 The jailbreak community is in for a big treat, as a new Chinese jailbreak developer team, TaiG, has updated the untethered jailbreak for iOS 8.1.1 with version 1.0.2, following recent release of Apple's iOS 8.x patch for Pangu8 jailbreak.
The new TaiG v1.0.2 update brings the ability to remove the 3K Assistant that can be optionally installed while jailbreaking your iOS device on iOS 8.1.1.
In related news, renowned jailbreak developer and member of evad3rs Dream Team, MuscleNerd, has confirmed that the TaiG jailbreak is safe for installation and nothing too complicated.
Here is what MuscleNerd had to tweet in his effort to console prospective jailbreakers with iOS 8.1.1 devices:
Nothing too unsettling with that TaiG JB...just some light device fingerprinting. To see that, create an empty debuglog.cfg file next...

— MuscleNerd (@MuscleNerd) December 1, 2014
to the exe file. From then on, when you run the tool it'll log the urls accessed in a log/.log file. — MuscleNerd (@MuscleNerd) December 1, 2014
The untether is much more transparent than Pangu (unobfuscated, and kernel is left open to inspection via "standard" task_for_pid0 patch)

— MuscleNerd (@MuscleNerd) December 1, 2014
Interested users who are running iOS 8.1.1 or iOS 8.2 Beta on their device can go ahead and install the latest TaiG jailbreak (using our step-by-step guide below), before Apple patches up the exploits used, in its forthcoming updates.
Pre-requisites
Turn off Touch ID or lock screen passcode as follows: Go to Settings > General > Touch ID & Passcode > turn off Simple Passcode.
Then turn off Find My iPhone feature by navigating to: Settings > iCloud > Find my iPhone.
Restore to iOS 8.1.1 via iTunes as OTA updates have known issues with jailbreaks. Download iOS 8.1.1 from here before you proceed.
Back up important data and settings on your device via iCloud or iTunes.
Supported devices:

iPhone 6 Plus
iPhone 6
iPhone 5s
iPhone 5c
iPhone 5
iPhone 4s
iPad (2, 3, 4, Air, Air 2, mini 1, mini 2, mini 3)
iPod touch 5
Supported firmware:

8.0
8.0.1
8.0.2
8.1
8.1.1
8.2 beta
How to jailbreak iOS 8.1.1 using TaiG on Windows
Step 1: Download TaiG v1.0.2 jailbreak for Windows from here.
Step 2: Connect the iOS device to computer via USB cable, and run TaiG.
Step 3: Uncheck or disable the option below Cydia checkbox to prevent installing TaiG app store.
Step 4: Finally, click on the big green button at the center of the pop-up window to begin jailbreaking.
Step 5: Wait for the jailbreak to complete and do not disconnect your iPhone, iPad or iPod touch during this process. Once the device is jailbroken, it should automatically reboot and Cydia icon should appear on the home screen.
How to jailbreak iOS 8.1.1 on Mac OS X with TaiG for Windows
Step 1: Download Windows 10 Technical Preview and Install the same on your Mac via Parallels Desktop (download here). For further assistance, check out the guide to install Windows 10 Technical Preview on Mac, which is posted here.
Step 2: Download TaiG v1.0.2 for Windows from here and proceed according to normal procedure for Windows users (see above).
Step 3: With TaiG installed on your Mac via Windows Virtual Machine, you can proceed with the jailbreaking process.
[Source: Redmond Pie]