One of the privileges of my role in the media is the opportunity to present events for Chelsea Pitch Owners, a group of individuals who own a stake in Stamford Bridge. Each year they invite me to be the compere and they get a senior member of the playing and coaching staff along.
Two years ago it was Frank Lampard, and last year it was Jose Mourinho. Both famous names, revered figures at Stamford Bridge. But this year's guest, John Terry, was probably the best yet.
Terry the man is exactly like Terry the player: fearless and uncompromising. He didn't duck a single question during our conversation, in front of a room full of awe-struck fans. He was relaxed, but honest. As we went back through his career, you could see how much Chelsea meant to him.
Perhaps the most revealing insight came early on, when he went through his early days in football. Terry told us that he turned down Manchester United to sign for Chelsea in 1995. Nowadays a young player would face a tough decision between those two clubs, but back then there was no choice - well, at least not to most people.
John Terry's playing honours
3 Premier League titles (2005, 2006, 2010)
5 FA Cups (2000, 2007, 2009, 2010, 2012)
3 League Cups (2005, 2007, 2015)
1 Champions League (2012)
1 Europa League (2013)
United were in full flow, and the Class of 92 were starting to blossom. Ferguson's youngsters were on course to win the double; the following season they'd reach the semi-finals of the Champions League. Chelsea were nowhere in comparison. They were a good cup team, but little more.
Terry was given a straight choice, and chose Chelsea. He told us it was simple – when he went to Chelsea he felt at home, and a coach called Bob Osborne was great with him. He thought Chelsea would be the best option for his career.
The decision went down badly in the Terry household. His dad was a huge United fan, and wanted his son to move north. In fact, when Terry was invited onto the pitch at Stamford Bridge to sign for Chelsea, he had a huge row with his dad. There were tears as they argued in the players' tunnel, and when you see pictures of the young JT signing his first contract, his mum is beaming with pride but his dad is nowhere to be seen.
Facing the wrath of your father and of Fergie. That's tough for any young lad, but Terry stuck to his guns, showing the sort of single-mindedness that would define his career.
Magic of Marcel
We then talked about his introduction into the first team, when Marcel Desailly and Frank Leboeuf were at the club. They'd won the World Cup with France, so naturally Terry had to bide his time. He was pushed out on loan to Forest, but typically the lad didn't complain; he took it in his stride, saw it as a chance to learn the game.
Eventually, the future Chelsea captain managed to wedge himself in the team. He remembers Desailly inspiring him before the start of a Champions League game, telling him to "listen to the music." Desailly had already won the Champions League but he was desperate to win it again. That determination stuck with Terry and drove him on. He definitely absorbed some of Desailly's will to win.
As a young lad, when he trained, he would go through people; his tackles were hard, but fair. I've been there myself, and the senior players don't like it when a young lad does that. One day Dan Petrescu grabbed him by the throat, but Dennis Wise stuck up for him, saying him 'if you fight him, you fight me as well.' Terry really appreciated Wise's gesture that day, a sign that he'd been accepted, welcomed into the fold.
We talked about when he heard Roman Abramovich was about to take over, news which was conveyed when he was on the golf course. And, of course, we talked about Jose Mourinho, the man who has done more than anyone to make John Terry into the player he is today.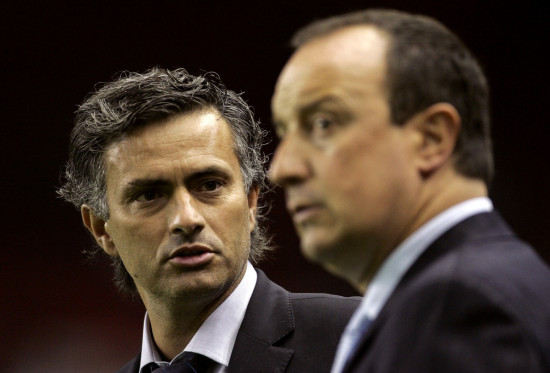 'With Mourinho everything was different'
Terry told us that, when Mourinho turned up, it was instantly and totally different to what had gone before. Mourinho called him in, said he was going to make him captain and promised he'd make him the best defender in the world. That sort of bullish message was shared throughout the squad; by the time they took to the field for the first game of the 2004-5 season, the Chelsea lads felt like they could beat anyone. Mourinho had transformed the club in just a couple of months.
At the other end of the scale, Terry revealed a big row he had when Rafael Benitez arrived. The Chelsea fans still held a grudge about comments Benitez had made at Liverpool, when he'd called the Blues fans 'Plastics'.
So the club captain went in and knocked on Rafa's door. He told the Spaniard he accepted those remarks had been made when he was manager of a different club, and bygones should be bygones. But, he suggested, Benitez should come out and tell the Chelsea fans that the 'plastic' slur was a thing of the past.
How did it go? Not very well, it seems. In fact, according to Terry, they had a row! I even offered to do a little role play for the audience, offering to play the role of Benitez, but, perhaps unsurprisingly, Terry didn't fancy doing that.
Now, of course, Terry is back with his mentor, and the team are having a fine season. When I saw him last week, Terry looked thrilled to be back playing under the man who made him a captain, a leader and a legend at Stamford Bridge. And the fascinating insight he gave us into his life and career showed exactly why Jose marked him out for greatness a decade ago.
Jason Cundy was a hero at Stamford Bridge as a no-nonsense centre-half during the early 1990s. Today he presents the popular Sports Bar radio show on TalkSPORT, and you can find out more about his work with the station here.
He also commentates on Chelsea games for Chelsea TV, working with fellow IBT columnist David Chidgey,and is a prolific member of the Twitterverse.