The Google search 'how can I move to Canada?' has seen an enormous spike in the US in the hours following Donald Trump winning seven states in the US election's Super Tuesday. It appears some Americans, envisioning a life with Trump at the helm, are already working on their escape route from the country.
Google's data editor Simon Rogers first posted on Twitter that the search term "how can I move to Canada?" was gathering pace following the Super Tuesday results and by the end of the day it had risen 1150%. Similar searches "moving to Canada" and "can I move to Canada?" also had risen 110% and 90% respectively.
Looking on Google Trends for results for the past day and seven days you can see there is a huge spike in the search term.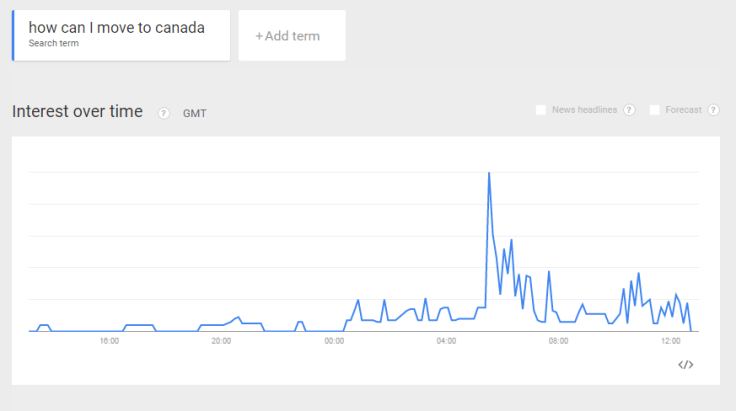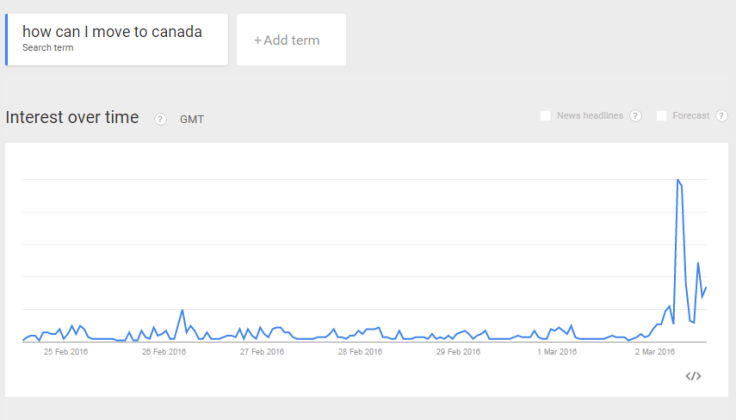 Of course, there's no concrete proof Trump's success is the cause – there could have been a convincing maple syrup advert aired that day – but it does come as a huge coincidence with the controversial candidate wanting to close US borders to immigrants and shut down the internet.
The biggest searchers of those wanting advice on how to get to Canada was revealed with the top five states: Massachusetts, Washington, Georgia, Tennessee and Virginia. It's interesting to note, four of those five states were where Trump won a majority vote.
During the surge of searches Mashable also reported that the Canadian Government website was suffering from problems, posting: "You may experience delays while using the website. We are working to resolve this issue. Thank you for your patience." However, it is unknown whether it was due to the Trump effect.