Donald Trump: 'We must close areas of internet because 'Isis are better at it than we are'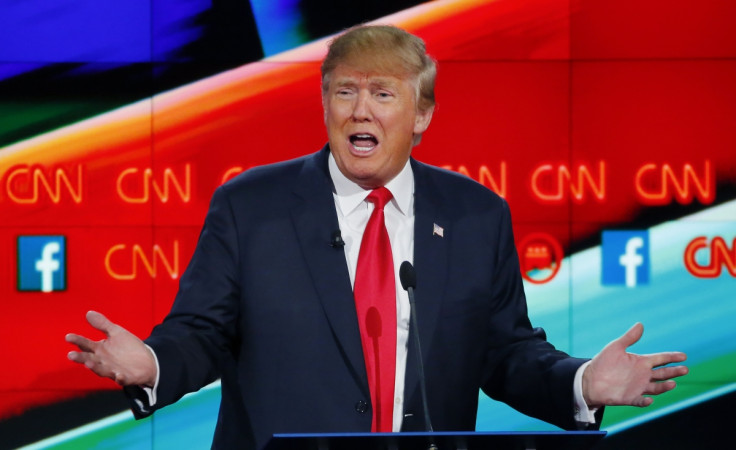 Donald Trump has again asked for parts of the internet to be shut down, in an attempt to stop Islamic State (Isis). During a televised presidential debate from Las Vegas, the Republican candidate called for "areas" of the internet "where we are at war with somebody" to be closed.
Trump claimed IS (Daesh) is using the internet "better than we are, and it was our idea." He believes the solution is to penetrate the internet, find out what IS is doing with it, and close certain parts of it down.
Here is the full exchange between Trump and debate host Wolf Blitzer:
Blitzer: You recently suggested closing that internet up. Those were your words as a way to stop Isis from recruiting online. Are you referring to closing down actual portions of the internet? Some say that would put the US in line with China and north Korea.
Trump: Well, look, this is so easy to answer. Isis is recruiting through the internet. Isis is using the Internet better than we are using the internet and it was our idea. What I wanted to do, is I wanted to get our brilliant people from Silicon Valley and other places and figure out a way that Isis cannot do what they're doing.
You talked freedom of speech. You talked freedom of anything you want. I don't want them using our Internet to take our young impressionable youth and watching the media talking about how they're masterminds... We should be using our brilliant people. Our most brilliant mind[s] to figure a way that Isis cannot use the Internet. And then, on second, we should be able to penetrate the Internet and find out exactly where Isis is and everything about Isis. We can do that if we use our good people."
The Republican candidate added that he "would certainly be open to closing areas where we are at war with somebody," adding: "I sure as hell don't want to let people that want to kill us and kill our nation use our internet."
It isn't clear what areas of the internet Trump suggests be shut down, or how he plans on doing this, and if these actions would be temporary or permanent. One may assume he is referring to Daesh's use of the dark web to spread propaganda about its war against the US and the West, although Trump is yet to mention the dark web specifically.
Trump recently suggested asking Bill Gates to close up parts of the internet to help in the fight against IS. He said that "closing that internet up in some way" would prevent acts of domestic terrorism in the US.
Trump said at the time: "We're losing a lot of people because of the internet. We have to see Bill Gates and a lot of different people that really understand what's happening. We have to talk to them about, maybe in certain cases, closing that internet up in some ways. Somebody will say, 'Oh freedom of speech, freedom of speech.' These are foolish people."
© Copyright IBTimes 2023. All rights reserved.