The worst refugee crisis of modern times, as the UN has dubbed it, is doomed to deepen, as thousands continue to flee war-ravaged South Sudan.
Every day, people abandon their homeland and embark on a perilous journey towards neighbouring countries in the desperate attempt to escape from war, rife sexual violence and a deep hunger crisis that has brought South Sudan to its knees.
Of the 1.8 million refugees who have fled South Sudan since war broke in 2013, 62% are children.
At least 950,000 South Sudanese have fled to Uganda, which the UN said it is now hosting "more refugees than any other country in Africa".
However, the already high numbers continue to increase as an estimated 2,000 South Sudanese refugees cross into Uganda every day.
The Ugandan government, in partnership with NGOs on the ground, assists refugees by, among other services, providing them with food and life-saving assistance, as well as a plot of land where they can rebuild their new life.
In June, Kampala and the UN appealed for $2bn (£1.5bn, €1.7) in funding to cope with the refugee crisis. Although the appeal has been met with a positive response – including €85m pledged by the European Union – it has failed to reach its target.
"We have received good support form the international community and the media, which have done a great job creating awareness [on the refugee crisis] and good response from donors, but the response is smaller compared to the needs," Robert Baryamwesiga, from the Office of the Prime Minister department of refugees and settlement commandant at Bidi Bidi resettlement camp in northern Uganda, told IBTimes UK. The camp is currently hosting 272,168 refugees, more than any other camp in the world.
"The emergency operation took around $400m, less than what we wanted, but we tried to prioritise needs. Now we have to say: how can we move on and offer sustainable services and allow refugees to live a much normal life? We need $1bn to achieve what we call 'minimum standards', to construct schools, motorise water systems and build new facilities, staff more people in areas and stabilise the settlements."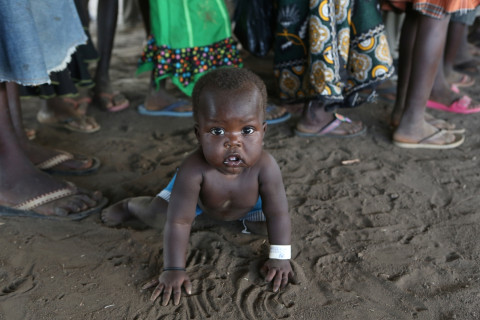 "Uganda has contributed its best by offering what it has to all these refugees, so where is the rest of the world? I think more efforts are needed," he continued.
The UN food agency World Food Programme (WFP) is assisting at least 1 million refugees in Uganda, the majority of whom are South Sudanese. However, the organisation is facing a funding shortfall and is struggling to meet the needs of newly-arrived refugees.
"WFP's budget for the next six months for all refugees in the country, roughly 75% of which are South Sudanese, is $117m. The shortfall is $65m," WFP's country director El Khidir Daloum told IBTimes UK.
"If we do not get confirmed contributions in the coming weeks, we will begin to run out of cereal, vegetable oil, Super Cereal Plus in October. The WFP's operation has more than doubled in the last year but we are barely managing to meet the needs of the newest arrivals and keep our operations going. We need enough money – at the right time – to keep our warehouses stocked with food for the one million refugees who depend on us."
South Sudanese children in Uganda
The UN has estimated that at least 100 children cross into Uganda every day. The majority of them are unaccompanied, traumatised and their mental and physical health is at risk.
World Vision, one of the charities helping the government cope with the refugee crisis, is helping about 700,000 refugees in five districts across northern Uganda. Among other projects, the organisation helps children cope with traumas caused by war and abandonment, aiding them to build their new lives in the hosting country.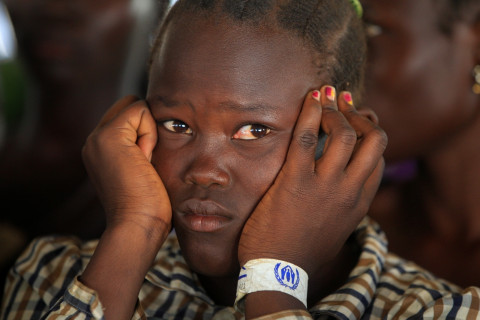 "We hear many stories of children's parents being shot by opposing forces, some children as young as 10 are raped, they are deeply traumatised and they should not see and experience what they have seen and experienced," Judy Moore, World Vision's Response Director in Uganda, told IBTimes UK.
The organisation has set up child friendly spaces providing at least 42,000 child refugees across northern Uganda with areas where they can express their feelings, play and rediscover normality again.
"Challenges are enormous, children need counselling, food, assistance, and stability. They need to adapt and learn different languages and different cultures, they have lost all of their friends and families so even socialising for them has become challenging," Moore explained.
"Everything we take for granted is a challenge for them and it is really important that these problems are addressed, so that children and youths can become normal citizens of this country.
"The average stay of a refugee in Uganda is 17 years, so children of today will become adults here. Because of Ugandan laws, they are entitled to education and jobs, so they could become politicians, they can become the future of this country," she concluded.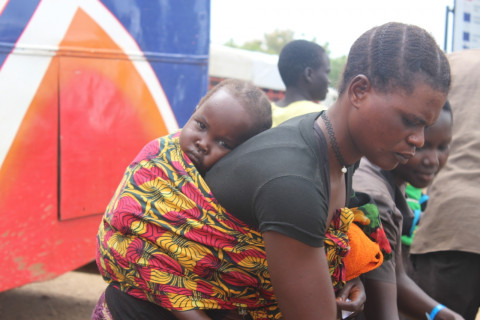 South Sudan's conflict explained
South Sudan became world's newest nation in 2011, after it broke away from Sudan. However, the newly created country has known very little peace, as it descended into war just two years after its creation.
The conflict erupted in 2013 when President Salva Kiir, of the Dinka ethnic group, fired his deputy Riek Machar – from the Nuer group. Machar then became a rebel leader.
Fighting between rebels and governement troops has killed an estimated 50,000 people, amid allegations of crimes against humanity committed by both sides, including rape, torture and the use of child soldiers.
The conflict has progressively continued along ethnic lines, with tit-for-tat violence targeting Dinka and Nuer tribes, prompting the UN to repeatedly warn the country is on the verge of a Rwanda-style genocide.
Kiir and Machar have agreed on several peace deals – the last of which was signed in August 2015 – but have failed to control their troops, who have broken every ceasefire since 2014.
Earlier this year, the government declared a unilateral ceasefire to promote peace. However, in in May, rebels loyal to Machar rejected the government's offer of dialogue.
---
IBTimes UK travelled to Uganda courtesy of Word Vision UK
---