Fleeing South Sudan - 'My mother was abducted, my brother killed, I was raped and now I am pregnant'
More than one million children have fled South Sudan since war erupted in 2013.
Tears roll down Eva's face as she recalls the moment she was raped at gunpoint in war-torn South Sudan, while she and her sister tried to flee to Uganda.
Her agony does not stop as she speaks about her pregnancy, something that the white-and-pink dress she is wearing fails to conceal.
Eva is 16 and she is among more than one million children who have fled South Sudan since the country descended into civil war in 2013.
The majority of people who flee cross into neighbouring Uganda, but the journey is neither easy nor safe.
People hide in the bushes with little or no food and water for weeks, even months, as deadly ambushes and fatal kidnappings at the hands of militants are a daily occurrence. Fleeing civilians are routinely robbed and beaten, while many are also raped and killed.
Eva is now in Uganda, where she can start thinking about her new life free from violence. However, memories of her family members being killed and the sexual abuse she was subjected to continue to haunt her.
"I left South Sudan with my sister, my mother and my brother. We started out journey together, but they took my mother. We started travelling again, but then they shot my brother and he died," she says.
Eva and her eight-year-old sister had no choice but to continue their journey alone, until they crossed paths with a group of men who suggested they could travel together to Uganda.
"We started our journey together with them at seven in the morning, by eight in the evening I was raped and they took my sister away," Eva explains.
"I don't know the person who did this to me, I don't know the name or where he is from, but even if I could speak with him, I would not have anything to tell him. He was a big man. After he left, I shouted but no-one could help me."
Eva found her sister the next day. The girls, deeply traumatised and unable to speak about what had happened to them, continued to walk until they met some women, who were also escaping. The women and their children have become Eva's foster family.
"My foster family are actually good, but we are facing some difficulties with the house, we are so many inside and even food is not enough," Eva explains.
Her new family is receiving the assistance of World Vision, a global NGO that is helping the Ugandan government cope with the huge refugee influx from South Sudan.
Eva is grateful for the work that the charity has done for her and her sister.
However, she cannot help but worry about her future: In a few months she will become a mother as a result of a sexual assault, she fears she will not be able to go to school and protect her sister who, until this day, has not been able to to speak about what happened to her the night the men ambushed them.
"After having the baby, I would like World Vision to help me get someone to keep the baby so that I can go back to school. I cannot manage to look after the child," Eva says.
"I would like to go back to South Sudan one day and look for my mum, because I don't know where she is."
When asked what else she would like to receive, she responds: "Books. Books to keep my mind safe".
World Vision has so far reached about 700,000 refugees in five districts across northern Uganda.
Among other projects, the organisation helps children cope with trauma caused by war and abandonment, aiding them to build their new lives in the host country. Through so-called child friendly spaces, it has provided about 42,000 children with safe areas where they can play and feel normal again.
We started our journey together with them at seven in the morning, by eight in the evening I was raped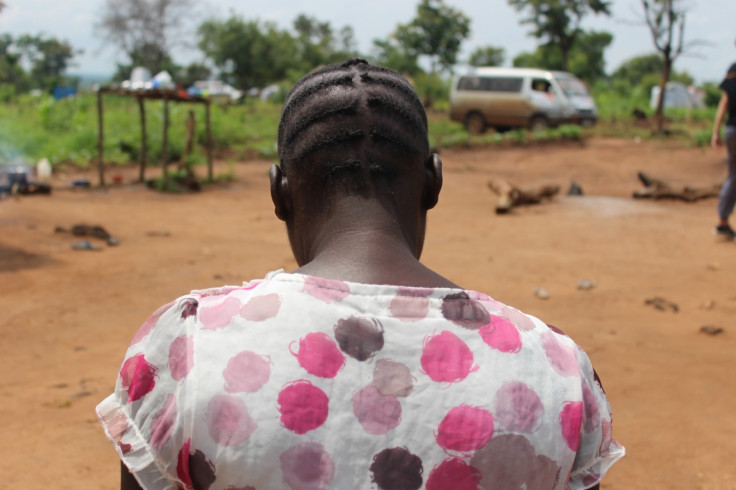 South Sudan's conflict explained
South Sudan became world's newest nation in 2011, after it broke away from Sudan. However, the newly created country has known very little peace, as it descended into war just two years after its creation.
The conflict erupted in 2013 when President Salva Kiir, of the Dinka ethnic group, fired his deputy Riek Machar – from the Nuer group. Machar then became a rebel leader.
Fighting between rebels and government troops has killed an estimated 50,000 people, amid allegations of crimes against humanity committed by both sides, including rape, torture and the use of child soldiers.
The conflict has progressively continued along ethnic lines, with tit-for-tat violence targeting Dinka and Nuer tribes, prompting the UN to repeatedly warn the country is on the verge of a Rwanda-style genocide.
Kiir and Machar have agreed on several peace deals – the last of which was signed in August 2015 – but have failed to control their troops, who have broken every ceasefire since 2014.
Earlier this year, the government declared a unilateral ceasefire to promote peace. However, in May, rebels loyal to Machar rejected the government's offer of dialogue.
---
IBTimes UK travelled to Uganda courtesy of Word Vision UK, one of the NGOs helping the Ugandan government cope with the refugee influx. Fore more information about the charity's work, please visit their website.
---
© Copyright IBTimes 2023. All rights reserved.