A software firm that works with Fortune 500 companies, to craft incentive schemes and performance management programmes, is developing a new platform that uses mathematical modelling, which is used to craft optimal baseball teams, to try and predict sales staff behaviour.
Speaking exclusively to IBTimes UK at the CompCloud2014 conference, the top technical product managers at Xactly said that they are looking to use the same methods as the former US professional baseball player Billy Beane , who is currently the general manager (GM) and minority owner of the Oakland Athletics of Major League Baseball (MLB).
"We have started to explore the metrics used by Beane to predict sales staff behaviour which would help companies forecast performance and profits in the longer term," said Nichole Giamona, senior product manager, insights and benchmarking at Xactly.
"We have already started developing this products but it is challenging. The first thing we found was that your traditional ideas or assumptions over how well people perform or certain trends are quickly dismissed.
"You almost have to start from the drawing board as you initial assumptions are not always correct."
Beane, who was an outfielder between 1984 and 1989 for the New York Mets, Minnesota Twins, Detroit Tigers, and Oakland Athletics.
Beane was the subject of infamous author Michael Lewis's book – most recently known for his controversial book Flashboys – entitled Moneyball: The Art of Winning an Unfair Game.
The book, which was later made into a movie starring Brad Pitt, focuses on the use of a certain type of metrics - an analytical and evidence based use of statistics to assemble a competitive baseball team, even in the face of the group's disadvantaged revenue situation.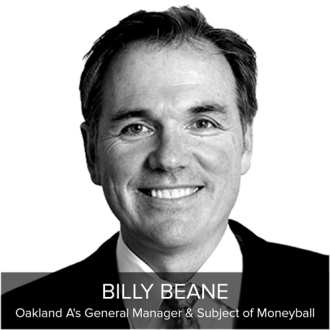 Xactly is a software firm that works with a range of companies of all sizes and industries to provide research and insight into optimal incentive compensation programmes, while also motivating staff through performance management.
Customers include Hyatt Hotels, Coca Cola, Twitter and Linkedin.
It is the only company in the world that offers empirical data from the world's largest companies, which cuts through over a billion sales transactions a month and thousands of compensation schemes. It means that companies can compare their packages and data to their rivals and remain competitive.
"The first things that stand out from the data is shock that a lot of sales staff across the globe don't attain their quotas yet are being paid bonuses," said Desta Buchowski , vice president of product management at Xactly.
"However, what people are telling us in the market, including our clients, is that the Insights product will help them with transparency over performances and targets and therefore shape their compensation plans to remain competitive amongst their peers while also boosting productivity."