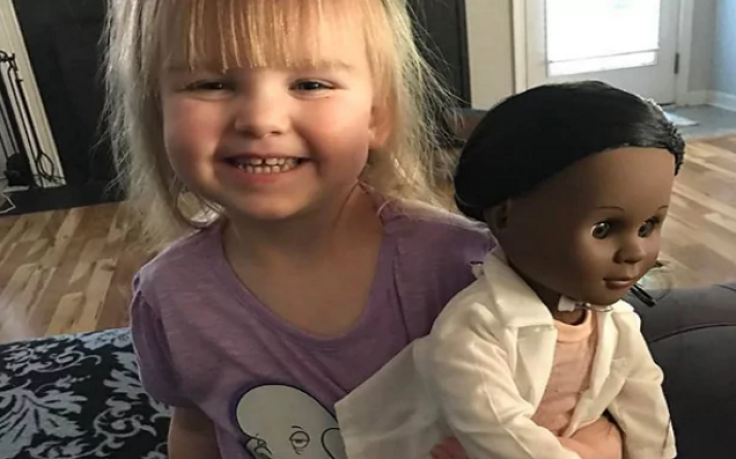 A little girl has become an internet sensation after fighting everyday racism in the most amazing way. Sophia Benner corrected a cashier when they claimed that she did not have enough in common with a black doll.
Sophia was being treated to a new doll at a store near her home in South Carolina. Having made her choice she headed to the checkout where the cashier, noting that the doll was a black female, asked Sophia: "Are you sure this is the doll you want, honey?... She doesn't look like you. We have lots of other dolls that look more like you."
According to Sophia's mother Brandi, who shared the story on social media, the little girl replied to the cashier with brutally honest logic.
She said: "Yes, she does [look like me]. She's a doctor like I'm a doctor. And I'm a pretty girl and she's a pretty girl. See her pretty hair? And see her stethoscope?"
Seeing the wisdom of the toddler's reasoning, the cashier merely said "that's nice" and continued to process the sale.
Reflecting on the episode, mum Brandi said: "This experience just confirmed my belief that we aren't born with the idea that colour matters. Skin comes in different colours just like hair and eyes and every shade is beautiful."
As of 3.30pm (BST) 475,000 people have shared the story on Facebook. The response has been so overwhelming that Brandi returned to the social network to thank the thousands of well-wishers who said they were touched by Sophia's story.
She also said that she wished to defend the behaviour of the unidentified cashier, who has received a lot of criticism in the aftermath of the event.
She said: "The cashier was an elderly woman and I believe she was completely ignorant to what she was truly saying. I feel like in her mind she was being helpful and making conversation with my daughter. I'm not saying her ignorance makes it ok, just proves her white privilege.