On a grey September morning, students from the Greenwich Free School excitedly clamber into kayaks by the London Docklands, against the backdrop of Canary Wharf's skyline.
They are thrilled to receive a kayaking lesson from Maggie MacDonnell, who was named the "world's best teacher" at a lavish ceremony organised by the Varkey Foundation in Dubai earlier in 2017.
MacDonnell was awarded $1m (£760,000) for her work with Inuit youth in Salluit, a town with 1,300 residents in Canada's Arctic Circle where temperatures regularly drop to -25 centigrade.
The Inuit teenagers MacDonnell works with face serious challenges. Teenage pregnancies, addiction and suicide - six young men killed themselves in 2015 - are worryingly common in the small town which is so remote it can only be reached by plane.
Despite the difficult conditions, MacDonnell was determined to improve the lives of Inuit youth who felt they had been abandoned by the Canadian government.
Passionate about physical exercise, she started various sports clubs and encouraged her students to come together and spend time outdoors.
After winning the Global Teacher Prize in April, MacDonnell embarked on a world trip to promote physical exercise as a way of improving children's mental wellbeing.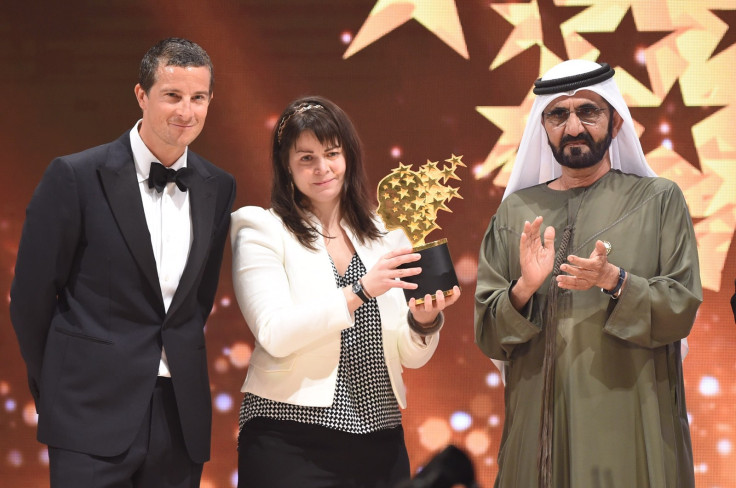 Her kayaking lesson in London on Wednesday 6 September is part of her campaign to encourage schoolchildren to get active and spend time outdoors.
"As soon as you move your body, you tend to feel better and your mental health improves. A ten-minute walk can increase your mood," she told IBTimes UK as she took a break from teaching the group of London schoolchildren how to manoeuvre the small boats around the docks.
MacDonnell's advice was sought at a meeting with UK Education Secretary Justine Greening, who recently announced that £200,000 would be allocated towards training teachers to identify and help students with mental health problems.
The mental health of British children is among the worst in the world, with the UK ranking 19th out of 20 countries in a study on children's mental wellbeing, published by the Varkey Foundation this year.
MacDonnell believes it is vital that teachers are trained properly in mental health. "Teachers are often the frontline workers for a lot of issues," she said. "They need to have the knowledge but also the resources to support their students."
The Greenwich students agree with MacDonnell's outlook on the relationship between physical and mental health. "Exercise calms down your mind and takes you away from all your stress," 12-year-old Joshua On said. "I found kayaking really fun and relaxing for my mind."
"Doing sport makes me feel good and like I've achieved something," said 14-year-old Eesa Malik, who hailed MacDonnell as an inspiration. Thomas McCarthy, 13, agreed: "She is pregnant and still doing her bit for other people."
MacDonnell is expecting her first child with her Tanzanian partner, who she is building a home with in the African nation.
Although she is miles away from the Arctic, MacDonnell has not forgotten about her students. When she won the award, she pledged that she would use her prize money to continue helping Inuit youth. She has started an environmental stewardship programme for indigenous communities in Canada, with a special focus on kayaking.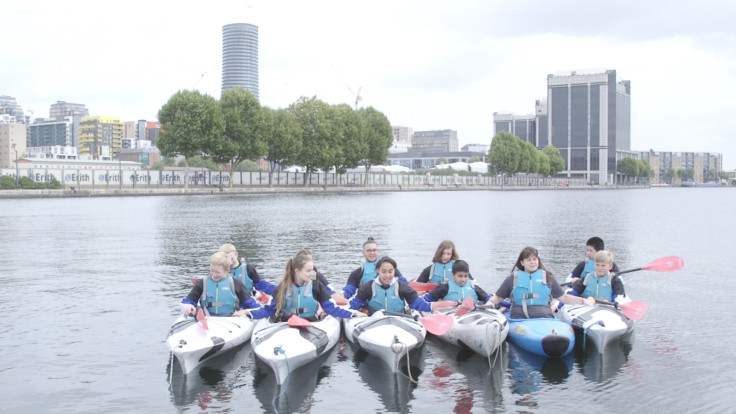 Kayaking is incredibly important to her students as it was invented by the Inuits, MacDonnell explained.
The sport allows Inuit teenagers to "feel connected to their cultural heritage," she said, recalling how one of her students told her she "felt she was with her ancestors" as she paddled down a river near Salluit.
"For many of my students it was the first time they had kayaked," she said. "The culture has been weakened during all the decades of colonisation that indigenous people have lived through."