Perhaps Stephen Green, an ordained Anglican priest, has God on his side.
Or maybe he knew nothing of the bad behaviour going on under his watch at HSBC, where he spent 28 years, including stints as chief executive from 2003 to 2006 and executive chairman until 2010.
Because the former UK trade minister is a Conservative lord has just brushed off HSBC scandals in the past.
But now he faces more difficult questions about what went on at the bank he ran following the leak of thousands of secret Swiss accounts used by some to hide their wealth from tax authorities the world over.
"Either he didn't know and he was asleep at the wheel, or he did know and he was therefore involved in dodgy tax practices," said Margaret Hodge, chair of the UK parliament's Public Accounts Committee and a Labour MP, on Radio 4.
"Either way he was the man in charge and I think he has got really important questions to answer."
The global bank has been hit with billions of pounds in fines from different regulators and authorities across the world since the financial crisis.
It was caught up in FX market rigging, Libor fixing, the misselling of investment products, money laundering, and financing drug cartels and terrorism.
Now it faces renewed criticism – and potential criminal charges – for helping its clients to evade tax in their home countries by sheltering their assets in secretive Swiss accounts.
It says the problem is historic and that the bank has "fundamentally changed" since. Several authorities, including in the US, are investigating.
The leak stems from a fugitive HSBC whistleblower, Hervé Falciani, who worked in IT at the bank and smuggled out account data in 2007 which he said shows the bank was aiding tax evasion.
The latest batch of secret documents to emerge was obtained by the International Consortium of Investigative Journalists, via the French newspaper Le Monde. They have been shared with dozens of other media across the world.
Falciani's data is being used by some governments, including the French, to pursue tax evaders. Swiss authorities have tried to have Falciani, who is on the run and living in Spain, extradited so he can face prosecution for stealing account information from HSBC. They have been unsuccessful.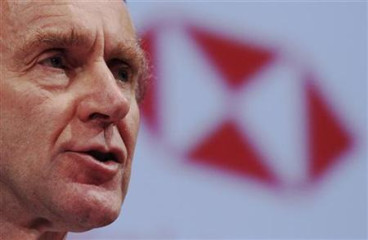 Because of the new leak, which contains account data from 2005 to 2007, Green is once again in the spotlight over HSBC's past failings. He told the BBC that "as a matter of principle I will not comment on the business of HSBC past or present".
But Green, born in 1948 and Oxford educated, hasn't been coy on banking ethics before: he has written books on ethics in finance.
In one, called Good Value: Reflections On Money, Morality And An Uncertain World, Green wrote: "We need to be able to look ourselves in the mirror and ask two questions about our role in the global bazaar: how is what I am doing contributing to human welfare? And why am I specifically doing it?"
A 2010 Evening Standard profile on Green when he left HSBC to become UK trade minister described him as "the abstemious intellectual, coming across as reserved and detached".
One high-profile City investment manager described him as "asleep on the job ... He's just not up for it."
Despite all of HSBC's fines and failings, its former boss Green has been unscathed by the scandals. Now he faces another challenge to defend his name: will God answer his prayers again? Or will he have to start talking to us about what he did and didn't know was going on at HSBC?