Yet more fallout from the HSBC tax scandal. The former head of MI5, Jonathan Evans, known to his friends as Baron Evans of Weardale, has resigned from the board of the National Crime Agency. He stepped down to avoid any "perceived conflict of interest" between his role at the publicly funded NCA and his rather more lucrative position as a director of HSBC.
What's troubling about this situation is not so much the conflict of interest, perceived or otherwise, as the fact the former director of our domestic intelligence service is now a director of one of the world's biggest banks.
In fact, Baron Evans is just one of a growing line of British spy chiefs who have hopped off the top of the intelligence pyramid into corporate boardrooms and cushy consultancies. But it wasn't always so. There was a time, not long ago, when outgoing spy chiefs styled their post-resignation lives a little more along the lines of Sherlock Holmes, who retired to the Sussex Downs to keep bees.
Sir Antony Duff, for example, left the helm of MI5 in 1988 to work as a volunteer at a homeless centre and joined the board of the Homeless Network in London. That was his big corporate pay-off. A year later, Sir Christopher Curwen retired as head of MI6 and went on to help run the Bath Preservation Trust.
But in the 1990s, something changed. A chill, neo-con spirit blew through the corridors of power and the lure of advisory dollars grew too great. Suddenly a knighthood wasn't enough.
The first modern British spy boss to throw himself into the private sector with real gusto was Sir Curwen's immediate successor at MI6, Sir Colin McColl. The corks had barely landed at McColl's retirement party in 1994 before he'd signed up to Oxford Analytica, a strategic consultancy company that – as we'll see – plays a key role in the fuzzy border between public and private intelligence in the UK.
Next stop for McColl, in 1995, was at Campbell Lutyens, the private equity placement company, where he became a director – later becoming chairman. In 1996, McColl joined the board of the Scottish American Investment Company (where these days you can find Sir John Kerr, former head of the Foreign Office). Finally, in 1998, he joined the advisory board of ManTech, one of the world's largest arms companies.
Where McColl led, others followed. In 1996, Dame Stella Rimington kicked off the trend at MI5 when she retired as head of the service and accepted directorships at Marks and Spencer and multinational energy company BG Group. But the real running was made over at MI6.
Sir Richard Dearlove was head of the foreign intelligence service from 1999 to 2004. On leaving MI6, he was snapped up almost immediately by the giant American International Group (AIG) to become a member of its international advisory board.
These days, Dearlove is the chairman of Ascot insurance, "a leading global specialty insurance underwriter", and an adviser to global intelligence company Ergo, which sells "strategic guidance" to "the world's largest corporations and asset managers".
He also sits on the advisory boards of strategic consultancy Veracity, venture capitalists New Venture Partners and Kosmos Energy, "a premier international oil and gas exploration and production company".
An impressive corporate CV, but when it comes to cashing in not even Dearlove can hold a torch to the man who came after him: Sir John Scarlett. He ran the service from 2004 to 2009, having been recruited into MI6 pretty much as soon as he left Oxford, back in 1971. On leaving the service, the big business appointments came thick and fast.
He joined the advisory boards of the world's second largest professional services company, PricewaterhouseCoopers, and the world's second largest reinsurance company, Swiss Re, where he joined Sir John Major (a Swiss Re senior adviser). Scarlett also became the chairman of the Strategy Advisory Council at Statoil, the Norwegian multinational oil company, and a senior adviser at giant investment bank Morgan Stanley.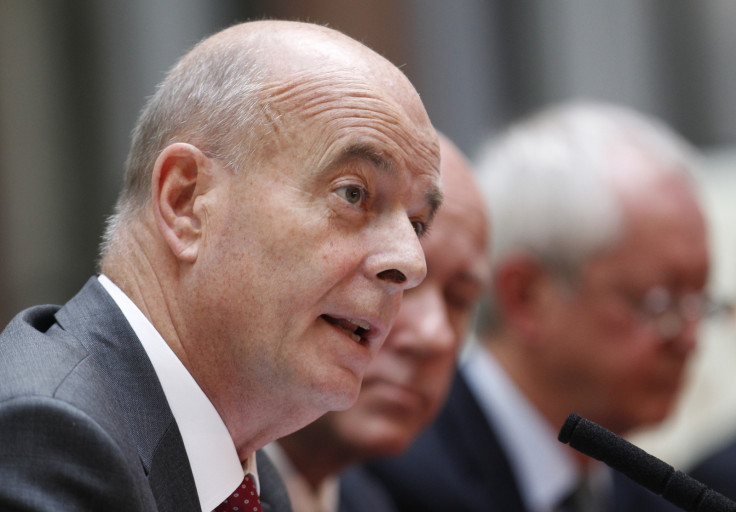 To top it off, Scarlett became a director of Murdoch's Times Newspaper Holdings, and an adviser to US consultancy the Chertoff Group, which is pretty much a clearing house for retired intelligence officers and security chiefs.
"We leverage our experience in government", declares the Chertoff Group website unashamedly. "Our principals have worked closely together for years, as leaders of the Department of Defense, the Department of Homeland Security, the Department of Justice, the National Security Agency and the CIA." And with Scarlett on the payroll, you can add MI6 to that list.
The latest spy boss to take the corporate plunge is Scarlett's successor at MI6, Sir John Sawers. At the end of October 2014, he parachuted off the top of 85 Albert Embankment, landing nimbly in the boardroom of Macro Advisory Partners, a strategic consultancy service, which welcomed him as its chairman.
Before he left office, Sawers told the Financial Times the people at MI6 are "public servants doing the best possible job we can for our country." At Macro Advisory Partners, he is doing the best possible job for "global companies... to ensure effective strategies for global expansion".
We witnessed Sawers transitioning into a career in big business back in June 2014, when we spotted him at the elite Bilderberg conference, which is a sort of hybrid lobby group/think tank at which the barriers between big government and big business melt away in a happy fog of cigar smoke.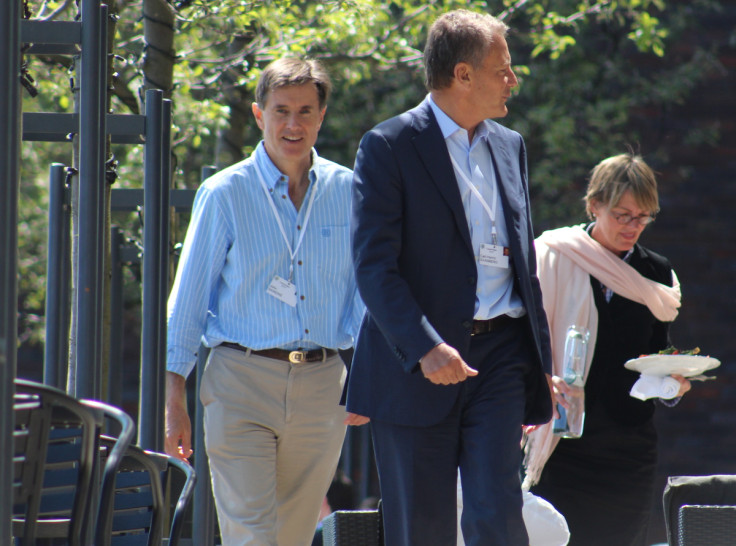 A few weeks ago Sawers stepped out for the first time in his new corporate colours to lobby for "a reversal in the trend in defence spending" on Radio 4's Today programme. Back in 2010, his salary as boss of MI6 was £170,000. His renumeration for making media appearances urging the government to up its defence spending on behalf of Macro Advisory Partners' corporate clients is unknown.
But maybe we shouldn't care. Maybe this is what civil service means now. A career is just an asset to be sold. A job at the top of British intelligence is just a stepping stone to bigger bucks. Maybe this is the Realpolitik of today's intelligence agencies and we should all just close our ears to the snuffling of noses in troughs. But at some fundamental level, cashing in like this on a successful career in the intelligence services doesn't seem quite British.
Charlie Skelton is script editor of 10 O'Clock Live, a writer on Have I Got News for You, and @deyook on Twitter.