HTC has always been one of the first few OEMs to announce quick updates to Android, following any major release from Google such as KitKat, Lollipop or Android M.
In line with history, HTC has kept fan hopes alive with the recent announcement of Android M update for its One M9 and M9+ via Twitter.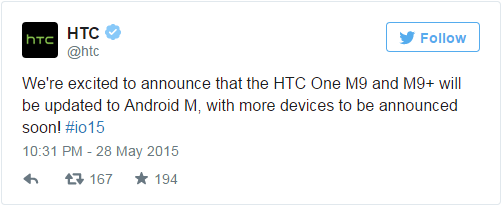 Based on the tweet, Android Authority speculates that One M8 and older Desire phones are likely to receive the M update soon, close on the heels of HTC's flagship smartphones (One M9 and M9+).
Though there is no word on the actual release date for Android M on any of the aforementioned devices, history beckons that the M update will be out in 90 days or less from the time Google announces the release of final build for the same.
At the moment, no other OEMs have come up with any announcements or plans for releasing the Android M update on their flagship devices, let alone make any promise of supporting older devices with Google's latest software.
If you are an HTC One user you have every reason to celebrate the occasion, as you might soon hear an official announcement of new software updates for your ageing device.