Folks at Phone Arena have tested HTC One M9's Qualcomm Snapdragon 810 system chip through a bunch of CPU and GPU benchmarks to evaluate its performance against the likes of its rivals from Samsung and Apple.
The Snapdragon 810 on the HTC One M9 gets evaluated across a series of benchmarks including Geekbench 3 single-core and multi-core tests, Antutu and GFXbench, while its performance is being compared with Apple A8 on the iPhone 6/6 Plus, and the Exynos octa-core processor on the Galaxy S6 and the S6 Edge.
According to the report, Apple iPhone 6 and iPhone 6 Plus take the top honours in the single-core CPU test with a score of 1630 and 1625 points respectively, while the Galaxy S6 finishes third and is followed by the One M9 in the fourth position.
As far as the multi-core CPU performance is concerned, the Galaxy S6 takes the lead with its Exynos 7420 system chip outscoring its rivals with a massive score of 5004 rating points, while the One M9 comes second with 3899 points.
Nevertheless, the HTC One M9 outshines its competitors in the GPU and gaming performance benchmarks, where the M9 leads the way in all GFXbench tests except for the Manhattan on-screen test where it finishes second behind the Apple iPhone 6.
As Phone Arena points out, HTC has strategically used the regular full HD (1080 x 1920 pixels) resolution for its display instead of the more appealing Quad HD version and this actually transforms into its stellar gaming performance.
If you are an avid Android gamer, then you might be impressed with the One M9's graphics performance. Take a look at the scores in the screenshots below: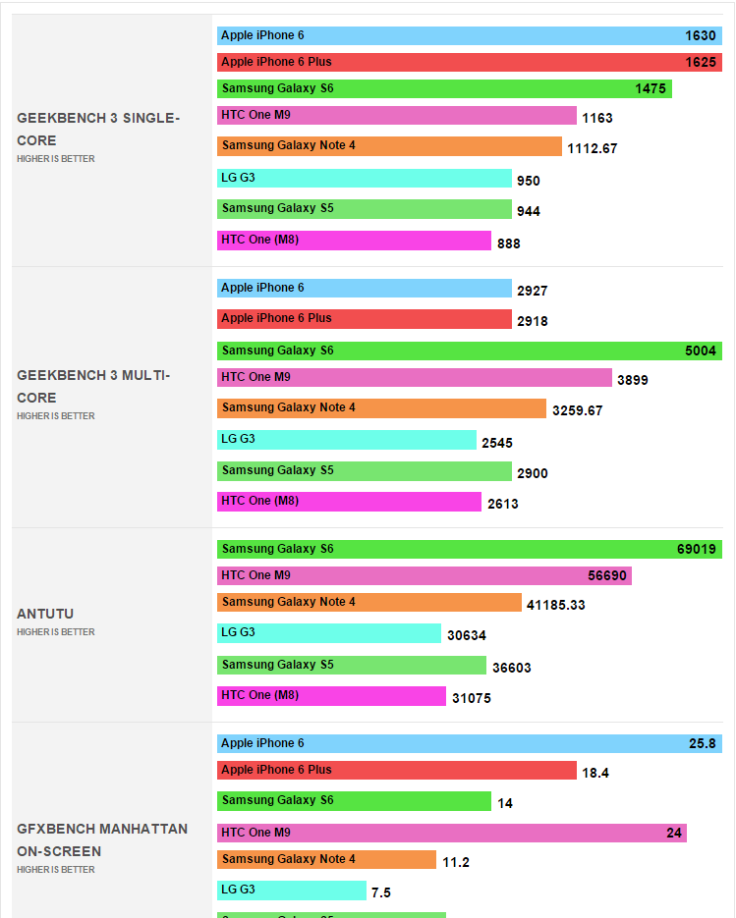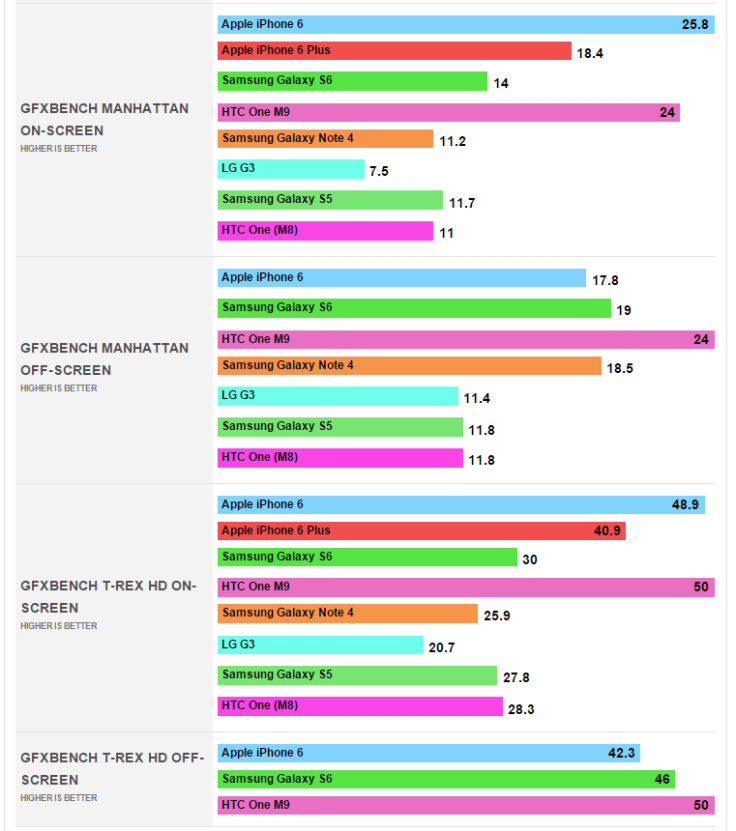 [Source: Phone Arena]