Roll up, roll up! Nvidia's virtual reality carnival has come to down, letting you play all your favourite fairground games absolutely free. Provided you've already purchased a £700 HTC Vive, that is.
VR Funhouse is Nvidia's first foray into game development and is now free to download from the Valve store. The game is what it sounds like: a collection of seven fairground-like mini games playable on the HTC Vive virtual reality headset. Expect archery, water guns, whack-a-mole and shooting galleries.
Not only does VR Funhouse look like the most insanely enjoyable VR experience built for a virtual reality headset to date, it's also being cited as one of the most technically advanced. The game has been built using Epic's Unreal 4 engine and incorporates several of Nvidia's graphics technologies to give it advanced physics, and realistic particle, hair, fire and fluid effects.
This can been seen in full effect in the VR Funhouse gameplay demo, with balloons bursting open to reveal thousand of pieces of confetti, which float to the ground depending on the movement and position of the player. Equally impressive is the shooting gallery, where crockery explodes with convincing ferocity.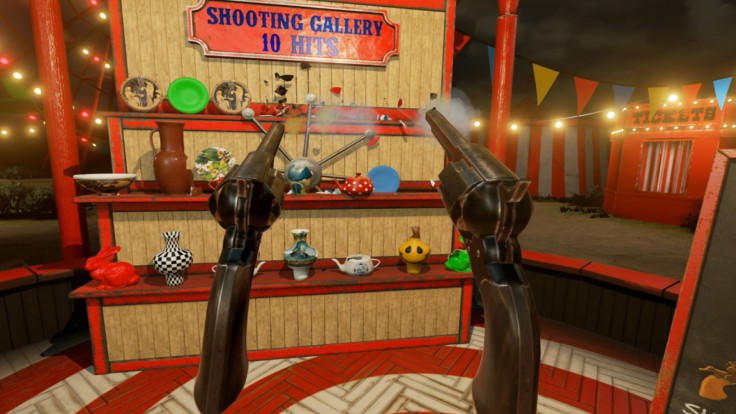 The game also makes use of the HTC Vive's motion controllers, delivering touch feedback and positional sound. This means when you clang two swords together, shoot a gun, draw an arrow or whack-a-mole, you'll feel the physical feedback in your hands thanks to the Vive controllers' vibration motors.
Because VR Funhouse has been built to test the limits of what virtual reality is currently capable of, the bar of entry is high. Nvidia recommends its top-end GeForce GTX 1080 or a two-way GeForce GTX 1070, Titan X or 980 Ti setup to play its game on the highest setting, meanwhile a GTX 980 Ti, Titan X, 1060 or 1070 is the minimum needed to run the game on low graphics settings.
Nvidia plans to make the game open-source later in the year to allow Vive users to create their own VR Funhouse mods.