Huawei has launched its new range of smartphones at the IFA trade show in Germany including the large 6.1in Ascend Mate 7 and a range of phone which promise to bring 4G connectivity to all price points.
In the UK 4G networks are still a relatively new phenomenon with the first consumer network switched on just under two years ago.
For the most part, people connecting to the 4G networks in the UK have been using flagship smartphones from the likes of Apple, Samsung, HTC and Sony but in recent months a trend has emerged to bring those faster download speeds to lower price smartphones.
Attempting to capitalise on this is Huawei who launched three smartphones which promise high speed 4G connectivity at a variety of price points from budget to premium.
---
Huawei Ascend Y550
---
Earlier this year EE launched the Kestrel smartphone, bringing 4G connectivity for under £100. That phone was built by Huawei and is doing very well according to the Chinese company, who told IBTimes UK this week that EE was selling "a couple of thousand units per week."
Looking to capitalise on the demand for 4G at a lower price, Huawei's own Ascend Y550 will likely undercut the Kestrel on price when it launches next month, as the market becomes very competitive in the lead up to Christmas.
We got a brief look at the Ascend Y550 before its launch and it is certainly a budget device with a glossy rear cover making it feel at the low end of smartphone spectrum.
Specs-wise the Ascend Y550 will feature a 4.5in low resolution screen; a 1.2GHz quad-core processor with 1GB RAM; 5 megapixel rear camera; 4GB built-in storage with microSD; and support for Cat 4 LTE.
Huawei will be hoping to attract those looking to upgrade from a feature phone with the Y550, but there will likely be better options out there at the budget end of the market this year.
---
Huawei Ascend G6205
---
For those looking for something a bit more polished while retaining a budget price, the Huawei Ascend G6205 could be the answer.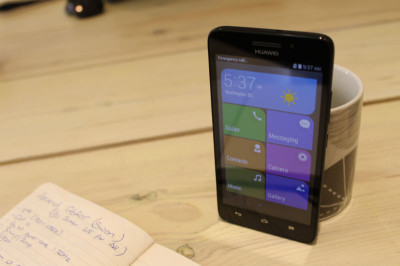 The G6205 will launch next month and will likely cost in the region of £160 without a contract.
For that price you will get 4G connectivity (Cat 4), as well as a 5in screen with a resolution of 720 x 1080 pixels, and a 64-bit 1.2GHz quad-core processor paired with 1GB of RAM.
The phone feels much more premium than the Y550, with the matte black rear cover of the unit I had a look at, feeling like much more premium and well built.
The phone will come with Huawei's own Emotion UI 2.3 which is a heavy skin on top of Android 4.4 (KitKat). The phone will have an 8 megapixel rear camera with LED flash and a 2 megapixel front-facing camera.
The phone comes with 8GB of internal storage with a microSD slot to expand that by a further 32GB.
---
Huawei Ascend G7
---
Huawei is looking to go down the route so successfully trodden by Apple's iPhone, and one recently copied by Samsung's Galaxy Alpha - that is, using metal construction for a premium feel.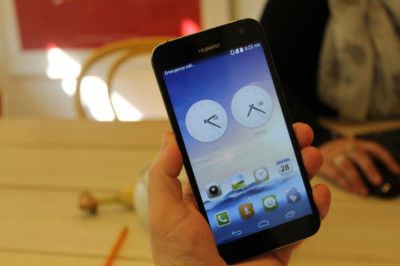 The Ascend G7 features a 5.5in screen with a resolution of 1280 x 720, a 1.2GHz quad-core 64-bit chipset with 2GB RAM and 16GB of internal storage.
There is a 13 megapixel camera on the rear and a five megapixel camera on the front. The phone will be available in gold, silver and grey, again mimicking the iPhone, but unlike Apple's smartphone the Ascend G7 will be "very aggressively priced" according to Huawei.
What that price will be is unknown, but Huawei did say it would be less than the company's currently flagship model, the Ascend P7, which cost £370.
The phone will go on sale in November and will feature the company's new software interface, called Emotion UI 3.0, which will sit on top of Android 4.4.
The "all-metal" device certainly feels great and is well designed, though I did find that holding it in one hand was rather difficult. Also there are certain gaps in the all-metal design which Huawei says are necessary to facilitate the phone's various antennae.