Huawei has announced the Talk Band B2, an update to its multifunctional wrist-worn fitness tracker which doubles as a Bluetooth hands-free earpiece. An upgrade on last year's B1, the new model has a more refined and attractive look, with a champagne gold model featuring a brown leather strap, giving the Talk Band a much-needed injection of style.
The Talk Band's dual functionality may be lost on some - we're not sure how many people still use Bluetooth hands-free kits - but used solely as a fitness tracker, the wearable holds its own. By pressing two buttons, the body of the B2 detaches and can be worn in your ear as a way of making hands-free calls.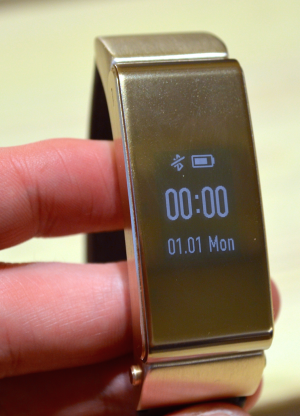 There's an array of sensors onboard, including a gyroscope which was missing from last year's model, and information like steps walked and distance jogged can be shown on the touch screen display. Notifications are absent, but for simply checking on fitness progress the Talk Band B2 does the job admirably.
Huawei says the Talk Band B2 can automatically tell the difference between walking, running, cycling and sleeping, and track each activity accordingly. Battery life is claimed to be five days of fitness tracking - or seven hours of constant hands-free calling - and 12 days in standby.
Unlike most wearables, the Huawei B2 can be paired to two different smartphones at once, which is useful for anyone who has both work and personal phones, and Huawei provides a companion app for both iOS and Android.
The black and silver versions of the Talk Band B2 have a rubber strap and are waterproof to a depth of one meter for up to 30 minutes. The gold model with a leather strap is not to be used underwater or worn in the shower.
Huawei says the fitness tracker will go on sale in the third quarter of 2015 - probably around September - and although there isn't yet an official price, it is expected to cost between £150 and £200.