Huawei Honor 6 Key Features
5in screen (1920 x 1280).
Android 4.4 KitKat.
13-megapixel camera.
139.6 x 69.7 x 7.5 mm.
Price as reviewed: £250.
Huawei's Honor brand is making its debut in Europe with the Honor 6 and it's available only through Amazon and not the mobile networks.
Huawei is adamant that the brand stand on its own, dodging reference to the parent company at every possible turn - but honor has some way to go before the pedants among us ditch the association.
The Honor 6 aims to offer high-end performance at a low price. At £250 this could be a true rival to the current king of the bargain basement, the OnePlus One.
---
Huawei Honor 6: Design
---
The Honor 6 is just about as inoffensive as a smartphone can get. It's a plain black (or white) chunk of plastic with Gorilla Glass 3 protection on the front, a glossy grey plastic frame around the sides, and a scratch-prone plastic back. Apart from the small Honor logo and "Powered by Huawei" stamp on the back, you'd struggle to identify this handset from among scores of others in the mid-range Android market.
There are several nods to various models of iPhone in the Honor 6's design. The chrome ring around the rear camera is exactly like that of the iPhone 4 and 4s, while the lozenge-shaped dual LED flash is the same as that on the iPhone 5s.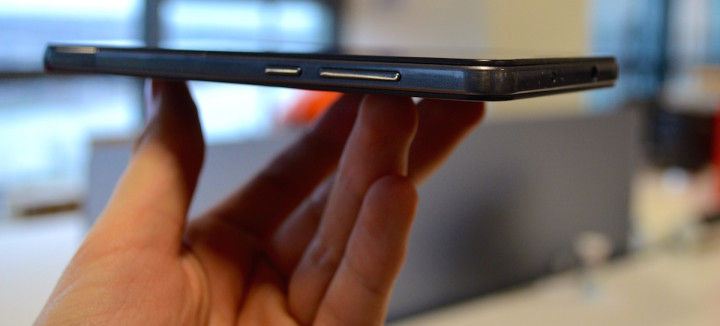 At 7.5mm and 130g, the phone is thin and light, while the 2.7mm screen bezel is thinner than the iPhone 6's. It's comfortable to hold in one hand and I found I could just about reach every corner of the 5in screen with my thumb.
Although the SIM and microSD card slots are hidden behind a flap, the Honor 6 is not waterproof.
---
Huawei Honor 6: Screen
---
The display measures 5in from corner to corner and has a Full HD resolution of 1920 x 1080 which results in a pixel density of 445 per inch. This is the same as the Sony Xperia Z3, Samsung Galaxy S5, and the iPhone 6 Plus.
But it isn't just a high resolution screen; the Honor 6 also has good viewing angles, accurate colours, and is bright enough to use comfortably outdoors - all areas where phones of this price usually struggle.
I'd normally say that 4.5in to 4.7in is the ideal screen size, but Honor has managed to offer five inches in a body which is only fractionally larger than an iPhone 6 - and while the squarer edges lack the Apple's good looks, they make it feel more secure in the hand.
---
Huawei Honor 6: Software and Performance
---
Despite the insistence from Honor that it is a completely separate company, the 6 runs exactly the same software as several recent Huawei handsets, including the flagship Ascend P7. This means Android 4.4 KitKat with Huawei's Emotion UI 2.3 over the top; it's one of the more dramatic visual changes to Google's operating system and won't appeal to everyone.
Almost every element of the interface has been changed, with the design tweaks most obvious on app icons and the notifications/quick settings pull-down menu. Frustratingly there is no icon to open the application folder; instead all app are found on the homepage, making the setup feel more like iOS than Android.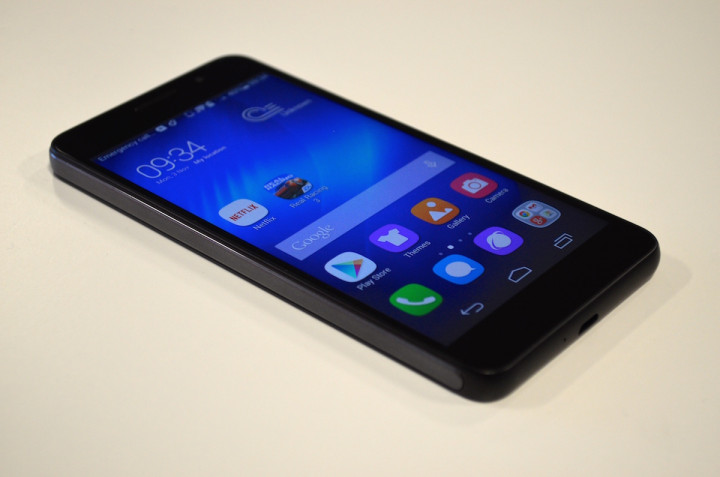 A feature of Emotion UI is the Themes app, which lets you choose different sets of application icons, wallpapers and lock screens to create a new look; it's by no means groundbreaking but adds an element of customisation to those who want it. To my eyes, Emotion UI looks slightly childish with its soft pastel colours and rounded edges, but that's a personal grievance and performance-wise the Honor 6 is excellent.
An octa-core processor developed in house at Huawei combines two quad-core chips running at 1.7GHz and 1.3GHz, and has a generous 3GB of RAM. This means apps open quickly, games and HD video play smoothly, and everything feels responsive. You'd expect a £250 phone with claims of being a flagship to occasionally struggle, but the Honor 6 never skipped a beat.
Honor claims two days of moderate use is achievable, and while this is true when you turn off GPS, dim the screen and keep gaming to a minimum, I found a full day of heavy use to be a more accurate claim. For context, an hour of streaming Netflix over Wi-Fi took the battery down by 15%.
---
Huawei Honor 6: Camera
---
The 13-megapixel (MP) rear camera is larger than you'd expect from a £250 phone and the photos it produces are mostly good. Outdoor shots are sharp and bright, while indoors it coped well with low light. The camera app has all of the basics covered - there are several filters, a panoramic mode, and HDR to help balance harsh lighting.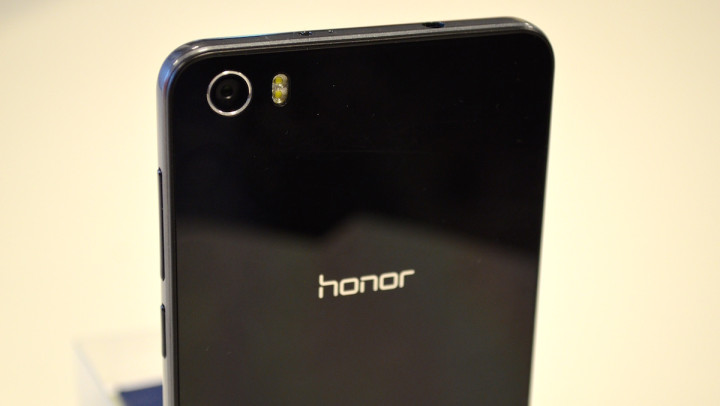 A 5MP front-facing camera is more than you get on many phones and it produces impressive results. It has the same Beauty Mode and Panoramic Selfie features as the Huawei Ascend P7 for those who want them.
---
Huawei Honor 6: Verdict
---
The Honor 6 brings flagship specs at a mid-range price. It has a great Full HD screen, smart and comfortable ergonomics (albeit with a slightly dull design) and a powerful processor which can keep pace with the best of them. I'm not a huge fan of the changes Honor has made to Android - I think it looks cheap and a bit childish - but that's my only major criticism of what is otherwise an excellent phone for the price.
Huawei Honor 6 Review Scores:
Screen: 8/10 - A good size with Full HD resolution, accurate colours and wide viewing angles.
Camera: 7/10 - Higher resolution than many at this price with a strong range of features for those who want them.
Software: 6/10 - Too much change leaves Android 4.4 KitKat looking cheap and childish.
Design: 6/10 - Excellent size and weight, but visually it's fairly dull and forgettable.
Build Quality: 7/10 - Good for a mostly plastic handset, but rear panel scratches very easily.
Overall: 7/10 - A very good phone for the price with impressive performance, but let down by cheap-feeling software.
The Good:
Comfortable size and weight.
Impressive screen for the price.
Expandable storage up to 64GB.
The Bad:
Emotion UI could look much better.
Battery life not quite as promised.
Plastic back scratches very easily.