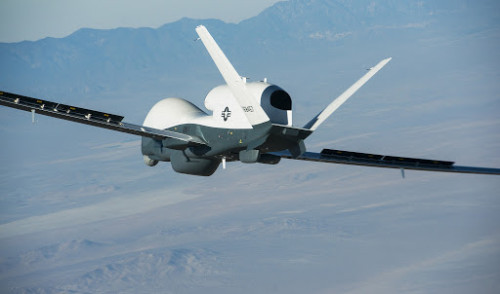 The US has been testing out a new drone which has a wingspan even bigger than a Boeing 757 jumbo jet.
The Triton MQ-4C is in development and on course to take unmanned aerial vehicles (UAVs) to the next level when it enters active service.
A ninth test flight of the huge craft has just been undertaken and expectations are high because each one comes with a price tag of more than £100m each.
A successful test was just what manufacturer Northrop Grumman needed after a delay pushed back completion by two years to 2017.
A wing span of 39.6m keeps aloft a plane capable of carrying out missions for 24 hours straight, using equipment which provides a 360 degrees circle of vision for a distance of up to 2,000 nautical miles.
The Triton is fitted with anti-lightning technology to let it swoop down through clouds to get a closer look at targets.
The US Navy has declared its confidence in the super-sized drone by ordering 68 of them.
It is not known if the Triton will be armed with bombs and missiles for hitting targets, like the Reaper drone does at present.