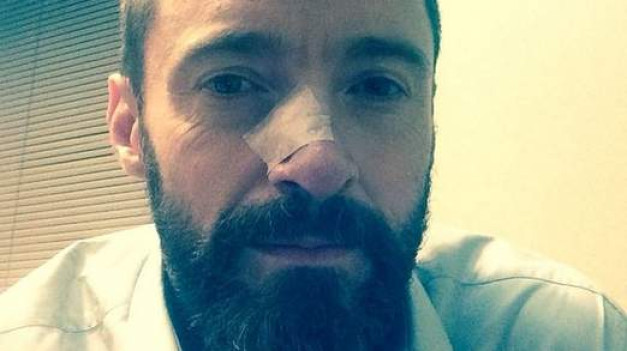 Hugh Jackman has revealed that he has undergone further treatment for a form of skin cancer.
On Wednesday (May 7) the movie star posted an Instagram picture of himself with a plaster on his nose as he urged fans to protect themselves with sunscreen.
"Another Basel Cell Carsinoma. All out now," he wrote. Thanking his doctors he said: "PLEASE! PLEASE! WEAR SUNSCREEN!"
Basal cell carcinoma is the most common form of skin cancer and accounts for more than 90% of US skin cancer patients.
The cancer rarely spreads, but if not removed can damage and disfigure surrounding tissue.
The 45-year-old first revealed the health scare last year, after doctors had discovered a cancerous growth on his nose.
The X-Men: Days of Future Past star, who was recently in the UK promoting the film, along with co-stars Michael Fassbender and James McAvoy, seemed to be in good spirits as he appeared on The Graham Norton Show and ITV's Good Morning Britain.
However, he was spotted today (May 9) in New York sporting the plaster on his nose and appearing to be in some pain.
The Australian actor is set to host the Tony Awards for the third time and will be back on Broadway with a new play.
The news of the Oscar nominated star's health scare comes as it was revealed that he has been cast in the Broadway show The River.
Performances start on Halloween at Gotham's Circle in the Square Theatre, and the show opens on November 16. The run will last through January 25, 2015.
Jackman's most recent Broadway show was his sold-out Hugh Jackman - Back On Broadway in 2011.