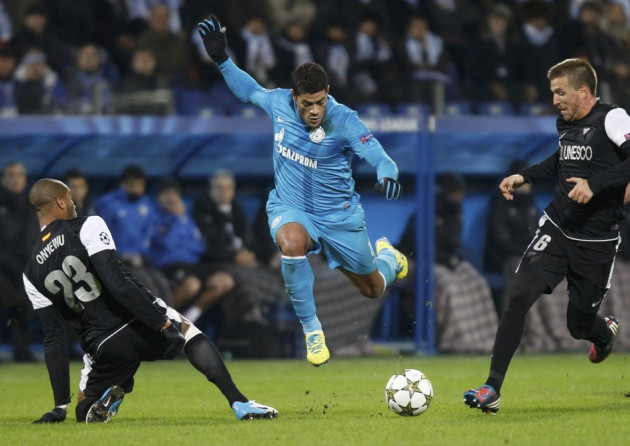 Chelsea were not the only side to endure a disappointing Champions League campaign; Zenit St Petersburg splashed the cash in the summer but failed to qualify for the knockout stages and now face a player revolt.
The Russian side spent £64million on Porto striker Hulk and Benfica midfielder Axel Witsel as they looked to build a side capable of challenging for major honours in Europe.
However, the arrival of the duo caused outrage among many of the current first team squad who complained about the astronomical wages the two new signings would be receiving.
Captain Igor Denisov was one of the first to voice his anger, and he was promptly told to train with the youth team, while the performances on the pitch seem to indicate that many of the team are unhappy with the big money signings.
Things were made even worse on Tuesday night as Hulk was substituted with Zenit leading AC Milan 1-0. The striker clearly did not enjoy being hauled off with 10 minutes remaining as he reacted angrily by making a 'finished gesture' towards Spaletti.
The Brazilian then made it clear that he was ready to leave if things did not change. "If the situation with Spalletti is not solved, in January I will leave," was the blunt comment from Hulk.
His manager also suggested that his time at the club may be over after indicating that he would not be leaving and he would certainly not tolerate the behaviour of Hulk.
"Hulk can say anything he wants," said Spalletti. "But if I decide to change him during the game it means I'm not happy with his play. Hulk is mistaken if he thinks he should play for 90 minutes all the time. He said he wants to leave? Then, it's his choice and I can do nothing about it. As for myself, I'm not going anywhere."
This has led to suggestions that Chelsea may rekindle their interest in the powerful forward. Hulk had been repeatedly linked with a move to Stamford Bridge, especially when Andre Villas-Boas left Porto and said how much he admired the 26-year-old.
With Fernando Torres still struggling to win over Chelsea fans and failing to show the form that made him one of the most feared striker on the planet at Liverpool, there are suggestions that owner Roman Abramovich will sanction more spending in January.
It is clear that interim boss Rafael Benitez knows the size of the challenge after losing 3-1 to West Ham and he will certainly want new faces to arrive. However, it will more likely be down to who Abramovich wants to see at the club.
Hulk still has a reputation as a clinical finisher after scoring 54 goals in less than 100 league games for Porto and certainly has the physical presence that Chelsea enjoyed using when Didier Drogba was in the side.
Yet the questions remains as to whether they would want to sign a striker who has massively underperformed since moving for big money - plenty of similarities there with Torres as well. What we do know is that if Zenit are keen to get rid of the striker then they may be willing to make a loss and Chelsea have never shied away from spending big money.
The west London club clearly near more attacking options, but would Hulk really be the answer. We may just find out in January.