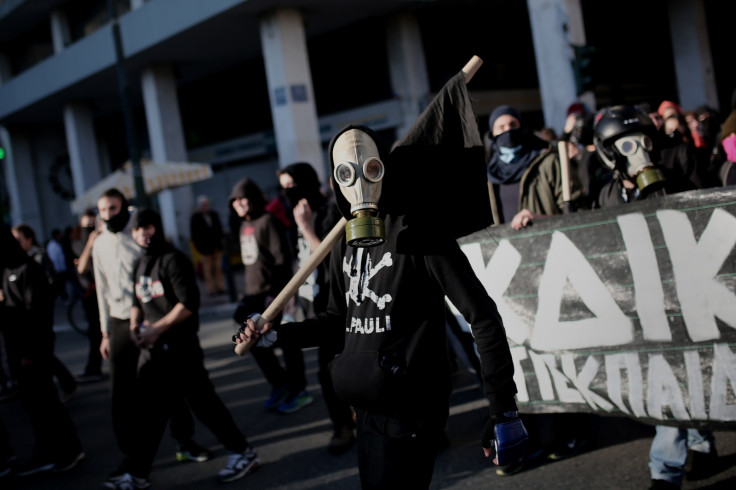 Police have arrested 295 anarchists following violent riots in Athens that erupted on the anniversary of the killing of an unarmed teenager by police.
The protests started peacefully, as thousands gathered to mark the sixth anniversary of the death of Alexandros Grigoropoulos, 15. Some protesters held aloft placards expressing solidarity with protesters in the US who have demonstrated against the shooting of unarmed black teenager Michael Brown.
Demonstrators left notes at the scene where Grigoropoulos was killed.
"I'm leaving this red flower, red like your blood spilled on the pavement," read one note. A banner was unfurled reading "When the state murders, resistance is demanded," reports MailOnline.
There were soon clashes between black-clad anarchists and police, and protesters fire-bombed banks, torched cars, and looted shops.
Protests were held in six other cities across Greece, where violence flared.
In Thessaloniki, Greece's second largest city, police fired stun grenades after protesters attacked two plain-clothed police officers.
Hundreds of anarchist protesters were arrested following the violence, reports Sky News.
Sky News reports that a group of anarchist protesters holed up in a university building ahead of further demonstrations planned for today.
They are demanding that Nikos Romanos, who was a close friend of Grigoropoulos, is released from jail so he can start university.
Romanos is currently on a 28-day hunger strike in protest at his detention, and is in hospital, where his situation is described as critical.
Greece's Prime Minister Antonis Samaras has agreed to meet his parents to discuss the situation tomorrow.
Authorities said they will allow him to take the course from jail, but Romanos has insisted on attending the classes in person.
Romanos said: "I won't back down. My response is: struggle until victory or struggle until death."