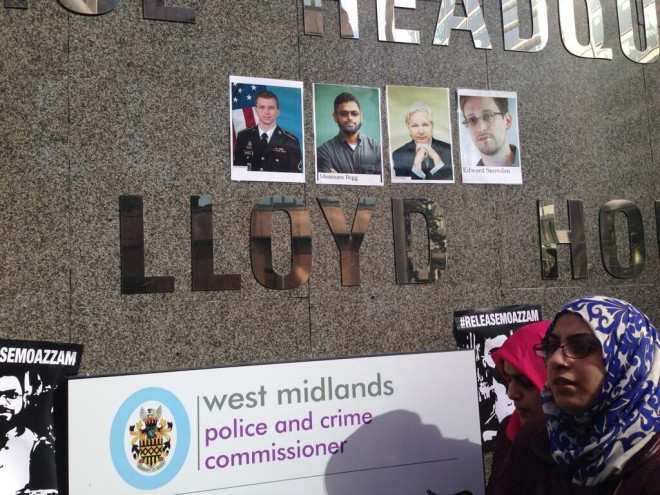 Around 500 protesters gathered outside a West Midlands police station on Saturday following the arrest of Moazzam Begg, the former Guantanamo Bay detainee. Begg has been charged with funding terrorism overseas and providing training to terrorists. He denies all charges.
Protestors congregated outside Lloyd House, the West Midlands police headquarters in Birmingham, clutching placards calling for Begg to be released and claiming he had been silenced by the state. Asim Qureshi, of CAGE, of which Begg is Outreach Director, read out a statement by Begg's daughter:
"No six-year-old should remember their father being kidnapped and thrown into the back of a car. My father was released to our home safe in England without charge and without trial from Guantanamo by the time I was 10. He has lived in the home with the belief that England will keep us safe from unjust cruelty. Most would keep quiet after an experience like Guantanamo. My father never stayed silent. He fought to give a voice to the voiceless."
Begg's arrest comes at a time of increasing concern about the radicalisation of Muslims caused in part by the conflict in Syria. Immigration Minister James Brokenshire warned last month that many who return from Syria may pose a security risk – concerns echoed by Metropolitan Police Commissioner Sir Bernard Hogan-Howe. However, writing for CAGE, Begg said concerns about radicalisation were unfounded.
"MI5 was concerned about the possibility of Britons in Syria being radicalised and returning to pose a potential threat to national security. I told them that Britain had nothing to worry about, especially since British foreign policy, at the time, seemed in favour of the rebels."
However in recent weeks he said he had noticed a change in attitude towards the rebels in Syria, as well as to those trying to provide humanitarian aid: "The language and attitude of the British government has steadily changed towards the Syrian opposition, especially since much of it has openly chosen an Islamic path, something the west has been unwilling to engage with and unprepared to accept."
Begg, 45, who was a detainee in Guantanamo Bay for almost three years after his arrest in Pakistan in 2002, will appear at the Old Bailey on 14 March. A "day of rage" protesting his arrest is scheduled for London on Sunday 2 March.