Ahead of its release later this year, the upcoming movie instalment of The Hunger Games has revealed its latest poster which hints towards the demise of villainous dictator, President Snow, once and for all.
Released on the film's Twitter page OnePanem, this teaser is much more about plot subtext rather than brandishing stars Jennifer Lawrence or Josh Hutcherson on the cover. On a stark white backdrop, it depicts the revolutionary Mockingjay symbol spray-painted over a vandalised effigy of the notorious Capitol leader whilst his statue's head lays broken on the floor.
The social media account captioned the poster "Down with the Capitol! #Unite at http://www.TheCapitol.PN." A link which directs fans to a webpage that begins as if it were made by Capitol TV displaying the seemingly peaceful message "Panem today. Panem tomorrow. Panem forever," alongside an authoritative looking Snow.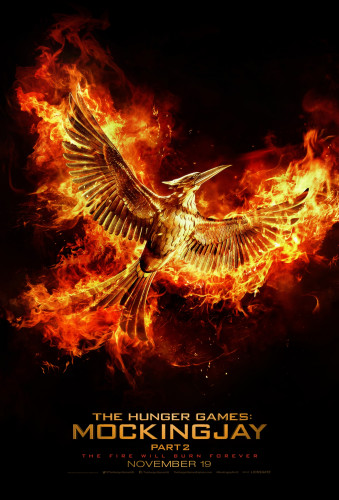 However, after a few seconds of being on the page, the site is 'hijacked' by the rebels and switches to the poster image and the words are replaced with "The Capitol must fall so we may be free. #Unite. Join us."
The Capitol is where Snow and his elite reside, watching over all of the other Districts as they have been forced to live in poor conditions and some even fight to the death in the historic annual games, under his bidding.
Mockingjay: Part 2, out on 20 November, will be the follow-up to the three movies that have come before it, taken straight from the hugely successful novels written by Suzanne Collins.
Throughout the series President Snow (Donald Sutherland) has been the enemy of championed hero, Katniss Everdeen (Lawrence) and her friends Peeta (Hutcherson) and Gale (Liam Hemsworth) as well as many other citizens that have joined their attempt to take the ruthless politician down, across the instalments.
The last adaptation in the saga will have Katniss lead the final showdown for which tension has been building across the films, particularly since Mockingjay - Part 1. Now a beacon of hope for the revolution behind her, she and the rest of the rebels will head to the Capitol from their headquarters in District 13, to assassinate Snow.
Development of the Mockingjay symbol itself has come a long way since the first movie where it appeared as a shiny, golden pin in both the film and the promotional material. Now, showing it in this way, audiences and fans can feel involved in the uprising and join the rebels in the desperation to defeat their oppressor.
Earlier in this year, Lionsgate also released the logo poster for the upcoming movie and a teaser which saw the final progression of the Mockingjay symbol from how it began in the first movie, to what it represents now.