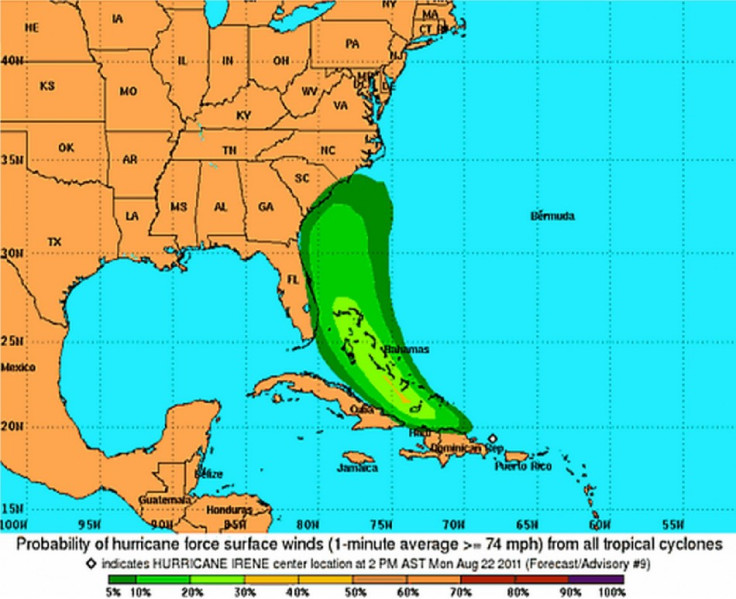 Hurricane Irene, the first storm of the Atlantic hurricane season, has already swept across the Dominican Republic and Puerto Rico, and is now set to hit Haiti, the Bahamas and Florida in the next few days.
Before devastating Necker Island, the 75mph storm first struck in Puerto Rico, with torrential rains and winds uprooting trees, flooding streets and leaving a million residents without power and left around 100,000 residents without water.
In Puerto Rico, the capital's main airport was filled with people trying to get off the island before Irene hit and many passengers ended stranded because their flights had been cancelled.
Forecasters now say the hurricane is expected to hit the Bahamas overnight, before making heading to the states of Florida, Georgia and North and South Carolina in the U.S. by August 25th.
The storm has sustained wind speeds of almost 100mph making it a category two hurricane.
The Foreign and Commonwealth Office has been tweeting advice to Brits visiting the region, advising: "Bahamas: Hurricane Irene due to pass through on 22/23 Aug. Follow the advice of local authorities and your tour operator."
Reports also suggest that ahead of the hurricane, cruise ships owned by Royal Caribbean and Carnival Cruises have also been forced to change their itineraries in order to avoid getting directly hit by the storm.
Julian Heming, tropical prediction scientist for the Met Office, also told The Metro: "While we have seen a lot of relatively short-lived and weak tropical storms over the North Atlantic this year, Irene is the first to develop into a hurricane."
"We expect it to pass across the Bahamas and continue to gain strength as it heads towards the U.S.."